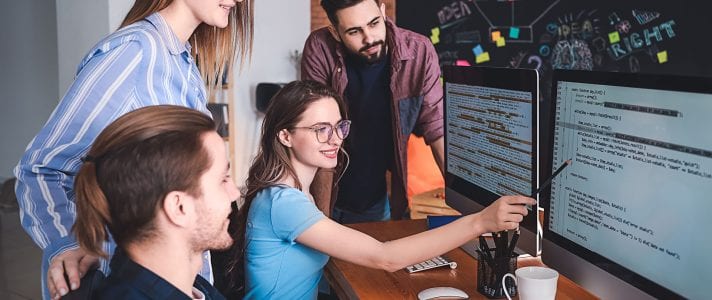 Why Should You Ask Your Website Designer to Complete a Design Audit
A consistent web design improves the users' experience on your website. Your visitors receive a coherent message, regardless of when they visit your website, meaning that a good website designer has an essential role in establishing brand identity.
Besides, mixed messages confuse people and lead to lack of trust. But how can you avoid this?
A design audit is the first step to ensure your website's consistency, to attract new visitors, and to keep old ones. Here's all you need to know about this topic:
Design Audits 101
A design audit is an overhaul of your website. The main purpose is to ensure that your brand's messages are consistent on all platforms, whether we're talking about the company's websites, TV ads, or social media. Web designers who conduct design audits research all the branding elements –  focusing on just the website design doesn't provide a complete picture.
Your messages should be audited too because they should all be on point, even if you're conducting a visual design audit. That's because website designs don't include just images or colours; they also include written or verbal communication.
If your ads and, implicitly, branding identity elements look consistent, your company is easy to recognize. But the best website designs focus on consistent messages, with consistent tones and voices as well. The goal is to build and convey a unique brand personality to gain loyal customers.
Why Conduct a Design Audit?
It's always a good idea to do a design audit when your company is growing because you want to project a consistent image. You can also ask for an audit when your company sees a high influx of work. At this point, different departments can focus on their work without too much interdepartmental communication. This can lead to inconsistencies in the long-run.
A design audit is an evaluation of your company's web design efforts. If mistakes were made, now is the time to correct them. If good things were done, now is the time to appreciate them. At the end of the day, a design audit gives you the chance to evaluate your strategy and improve your web site design.
How Do You Do It?
It may be difficult to conduct a design audit on your own, especially if you don't have experience. A simple Google search for "web design Australia" should render a reliable web design company for professional help.
Experienced website designers will collect all the data regarding your company, such as all your ads, business cards, all your campaigns, design system, logos, social media posts, and your style guides. A design audit will also include all your company's workshops, promotional speaking, and presentations.
These elements will be analyzed individually, but also as a whole. After all, they need to make sense together, not separately.
1. Your Website Design
The best website design should sketch your brand's identity, mission, and vision. A design audit aims to find inconsistencies in the expression of these values. A design audit will expose faulty, ineffective designs that sabotage your brand's image, such as:
  Inconsistent navigation which confuses users on your website.
  Different logo files which make your company difficult to recognize.
  Inconsistent background designs and patterns that affect your brand's identity.
  A design that isn't mobile-friendly, so it's not accessible for most users.
  Discordant icon sets that create an incoherent brand image.
  Different web page design styles, which make the navigation difficult.
  Pop-ups that don't follow the style guides and company's values.
  Confusing typography that leads to recognition or readability issues.
  Landing pages that don't follow the style guides, with incorrect logos and colours.
  Written messages with mixed tones, which express contradicting brand personalities.
2. Social Media
You want the best web design for your social media channels too, not just your website. Research shows that 78% of consumers claim that companies social media posts have influenced their purchase decisions. That's why a design audit should focus on these platforms too, making sure that:
  The social media messages express the same thing.
  All social media platforms convey messages that follow your brand guidelines.
  Social media images include well-designed and well-sized images.
  Your social media content reflects your brand's values and personality.
  All your messages use sentence case.
  Your social media messages are error-free.
3. The Competition
The design audit should research your competition as well, in terms of SEO, by answering these questions:
  Which competitors have bigger organic traffic?
  Which competitors have smaller organic traffic?
  Which keywords bring your competitors this traffic?
  How are these companies using specific keywords to attract more visitors?
  What is your competitors' monthly search traffic?
  Which are your competitors' page one keywords?
  What inbound links are your competitors using?
  Which domain authorities are your competitors using?
  What's the connection between your competitors' root domains and their search traffic values?
There are various online tools to help you with this job, from Ahrefs to SEMRush, SpyFu and Open Site Explorer. Your hired website designers will produce charts with adjoining sections for each competitor, to easily compare between them and with your company. Explicitly visual charts highlight your strengths and weaknesses, indicating your future strategy.
4. Your Indexed Web Pages
A design audit should include the way your web pages are read (aka crawled) and indexed by search engines.
The website designers will probably use tools like Google Search Console to check these things. The robots.txt file provides all the info regarding unread web pages. To make sure all your web pages are read through and indexed, you need to follow the search engines' protocols. You should receive a detailed report on strategies to fix web page indexing.
5. How Your Website Loads
Having an easily accessible website is essential. Otherwise, your visitors will get frustrated or bored and leave. The main culprits are slow loading speeds, long server response times, and 404 errors.
Google offers a valuable tool in their Page Speed Insights so you can analyze your accessibility problems. Google Search Console highlights your 404 errors so that the web designers can redirect these pages to updated ones.
Using Google's resources to fix website loading problems requires a modicum of know-how, so you might feel it's best to hire a website company.
6. Your SEO Strategy
There are three essential points to an effective SEO strategy: keywords, links, and on-page optimization.
Keywords
Keywords are essential to bringing organic traffic to your website because it shows search engines that you're focusing on solving your visitors' needs. As such, you need to understand what keywords bring you the most traffic, but check where your company ranks after you're using them. Analyze how your users convert to customers after using certain keywords.
Google Analytics and Search Console can be used for keyword research and effectiveness too. There are other keyword tracking tools you can use, to follow the various keyword search positions at different times.
Linking
You need to include relevant links in your website because they help search engines rank your website among the best. As such, you need to provide users with inbound links to your articles, as well as outbound links that send them to other trustworthy websites.
Google Search Console can help you analyze these links, so you can figure out which of your webpages are essential. Your web design company can utilise search engine optimisation tools to highlight linking opportunities and analyse at your outbound linking system.
On-page optimization
On-page optimization helps you configure your website for both visitors and search engines, which browse your content in different ways.
However, there's a spiral of relevancy. If your website ranks among the first, you will get new visitors. If you get plenty of visitors engaging with your content, your website will be ranked among the best.
Search engines require all sorts of tags to figure out what your web pages are about, including header tags and ALT tags for images. Your page titles' and URLs' lengths are also important for search engines to understand the topics of your webpages and how to rank your website.
7. Your Content
Your content is part of SEO, but it deserves a special section. Content is an invaluable tool on the road to converting visitors and increasing your profits. Your audit team will focus on answering the following questions:
  How is your content relevant to visitors?
  How are visitors converting after reading your content?
  How do you use keywords in your blog posts and landing pages to increase your inbound traffic?
  Is your content optimized for the keywords you need?
  How much time are your visitors spending on your website to read and otherwise engage with your content?
  Do you have duplicate content problems?
The last two sections help build a coherent SEO content strategy. This strategy acts as a guide to your content team, helping them create relevant, engaging content. This content helps users convert, but it also helps search engines read and index your webpages. Google has some good advice on content strategy if you need some momentum.
8. Your User Experience
Search engines will offer a poor ranking to websites which lack a pleasant user experience. That's why it's important to evaluate your site architecture and understand how easy it is for users to navigate it.
People visit your website to solve specific problems, so they need to get to certain web pages fast. Whether they want to buy something or check some info, people want a secure HTTPS, mobile-friendly website that's easy to navigate through.
Google algorithm penalizes websites that don't have all these user-friendly features. It's particularly important to focus on a mobile-first design, so start with Google Mobile-Friendly to figure out if you pass the test or not.
9. Your Brand's Strategy
You might think that a design audit focuses solely on past mistakes. But the purpose of this audit is to make sure your company stays on track and can achieve its long-term goals.
That's why your auditors will analyze issues like your company's online objectives and challenges, the strong points, and setbacks. As such, if you want to launch a new product in the next quarter, the auditors interpret all the data with this purpose in mind. Strategy is important for simple website design, but it's absolutely crucial for ecommerce website design.
10. How to Act on the Results
The web design company or website designers you hired to do the audit will give you a full report. This report will highlight the good things, the bad things, and the solutions to remedy the mistakes. After you have this report, you should stick to its recommendations on the long-term too. This report will highlight your brand's inconsistencies, but you'll also receive plenty of resources to stay on track.
After you and your stakeholders review the audit's results, you can take action. If there are just a few minor inconsistencies, you simply have to show these to your teams. Improve your style guide to make sure these mistakes don't happen in the future.
If the inconsistencies are moderate, then you need to improve your design system. Of course, you would need a design system in the first place, to project a coherent branding style. This consistency will benefit your teams too, helping them understand their requirements and moving forward in a united fashion.
In case of moderate to big mistakes, make sure your teams understand the importance of coherent brand elements and stick to using the same logos and wordings. It can also be useful to create an additional system in place, to avoid making the same errors. This system should complement your style guide with additional information and resources.
If your web site design is filled with massive inconsistencies, rebranding might be a better alternative both in terms of price and image goals. It can be easier for your web designer to start afresh and build consistent messages and visuals. Besides, your brand might benefit from a new positioning that highlights a coherent set of values.
Conclusion
Website designers should conduct design audits because they help keep your brand on course. This ensures a coherent communication that's essential for building trust and recognition. Design audits empower your brand and improve your connection to your target audience. The ultimate goal is to keep your loyal customers, improve your reputation, and easily attract new customers.
Do you need a website designer to conduct an audit of your website? Get in touch with our friendly web design Sydney team.