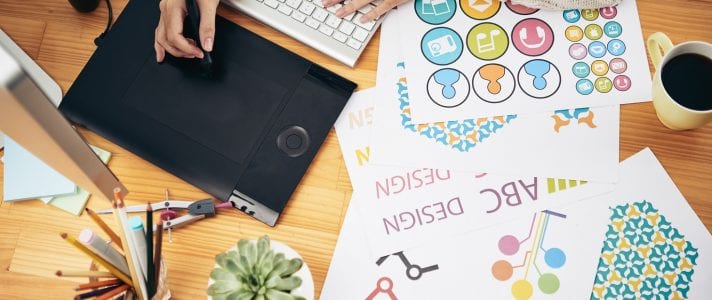 Where to Find Inspiration for Your Company Logo Design
Building a company logo design is difficult enough as it is, without having to worry about inspiration. So if you've been waiting unsuccessfully for inspiration to strike, it might be time to go looking for it yourself.
The best logo designers find their muse in some unique places, so here's what you can learn from their experience.
Check Logo Design Sites
Sites like Logo Gala and Logo Moose are filled with beautiful and effective logos that can inspire your logo design. You can widen your search to include various industries, or narrow it down to brands in your particular niche.
Make a Database
Even if your job is business logo design, that doesn't mean your research is limited to logos. While it's true that you can draw inspiration from analysing successful logos, you might need a bigger picture. So make a database of diverse images, with beautiful colours and striking contrasts that you can use.
Scribble Away
Every logo designer knows that inspiration doesn't come from overthinking things. Sometimes you can catch that wave of inspiration if you unleash your subconscious mind. That can easily be done if you start doodling to ignite inspiration.
Old Brand Logos
This works for companies with a history which have had various logos throughout their lives. Browsing through these logo designs can help you either by reviving an old idea or by going in the completely opposite direction.
Focus on the Brand Vision
Understanding what your clients want for the future of their company can help you find inspiration. A custom logo design can focus on these plans and values, emphasising the brand's identity better.
Bring Fresh Eyes
Inspiration often needs a flash of insight from someone that doesn't have any ties to the industry. As such, a friend or a family member can become your personal muse.
Use Mood Boards
An effective business logo design is based on a lot of research: themes, shapes, colours, sizes and words that all need to be carefully selected. Mood boards and other similar tactics can help you select the best tools for the job.
Go Through Your Portfolio
Many logo designers build a portfolio that includes old logos, logo ideas, designs they've made for college exams and so forth. All these sketches and ideas can help when you're stuck.
Be Open to Life
Look for inspiration in a completely unexpected place. Let your thoughts roam freely and be receptive to the images that form in your mind. Admire a painting, an outfit or the inside of a coffee shop. Look at ads or enjoy the layout of your park.
All these elements and structures are just waiting to be separated and placed together again in a new, interesting fashion. You can also try doing something else, like going for a walk, a swim, or playing a game of cricket. And when you're least expecting it, your logo design will materialise itself in your mind.
Regardless of which one you're going to be using, remember to keep an open mind for your muse to enter.
If you are looking for an affordable and high value website solution for your small business check out our cheap website design services.