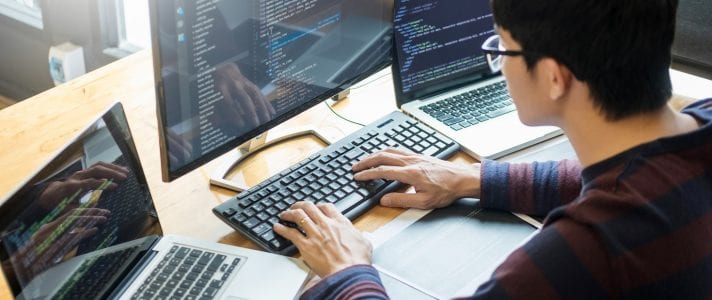 What Does It Mean To Be A Web Developer?
The term "web developer" should not be a foreign term as it gets thrown around a lot. And, if you have ever created a website before, you would be more familiar with what this expert does for a living.
Needless to say, website developers engage in web development. Most web developers can design, code and change websites. However, there can be some confusion regarding the different roles of a web designer and web developer. Although, these two often collaborate, they do have different roles. Your web designer works on the aesthetics and the layout, while the website developer makes sure that the website works. Most digital marketing agencies will take over both functions for their clients.
Here are some of a web developer's specific roles:
Script Coding
JavaScript coding and HTML/CSS are all within the skill set of a web developer. Since the field is always evolving, they also have to keep up.
A web developer will help you to choose the best method to run the website. They also need to know database technology for image, file, code and data storage.
SEO
While coding, web developers also need to consider search engine optimisation. This step is essential for any website. Crawlers will not be able to discover a website with poor SEO. Your website should have the necessary SEO foundation to make it easier for people to find it. Web developers often work with a team involved with SEO strategy during this phase.
Design
Most of the time the goal is to increase brand awareness and improve sales figures. Your web developer will help you to achieve these goals by putting together a bug-free website with functional buttons.
Aside from that, they will also make sure that your website design is fit for mobile devices. At this point, you will lose out if your website doesn't work on mobile devices. What's more, they will also ensure that your website is secure.
Understand the Bigger Picture
A web developer should be your collaborator. You have goals for creating a website which affects your business and a developer serves as the key person for achieving your goals. They will also work with your project managers and designers to create a brand that meets all your needs.
Always remember that your website serves as an extension of your business. Often your clients have seen your website before dropping by your store. So, you need to create a strong impression with the help of your website.
If a visitor finds your website untrustworthy or lacking, you are in trouble. These feelings could extend to how they feel about your brand.
To conclude, you need to maintain constant contact with your web developer. At all times make sure that you are clear in depicting the goals that you have for your website and your business.
For more information about our services contact our web design Adelaide team.