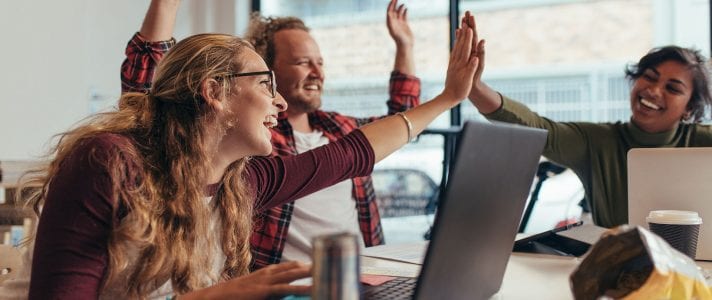 What can you do to keep your web developer happy?
If you want to set yourself up for failure, ignore your web developer! A talented website developer can improve the appeal of your website and boost your online presence. The latter is especially important as in today's day and age, the first interaction between a potential customer and a product typically takes place online. Also, people rely on their mobile devices to fulfil a need at whatever time or at whatever place the need crops up. This means that your business will have to improve its customer experience non-stop.
To do this successfully, you will have to teach the right people the needed skills so that they can turn your cutting-edge ideas into a website or app that will improve the lives of your target audience for the better.
Whether you need a small business website or an ecommerce website design, a lot of your success pivots on how you treat your web developer. The value that your team of web developers can offer your company and its customers will be contingent on how much you appreciate them and their valuable work. The reality is that sometimes, companies fail their web developers. In some instances, companies make the mistake of instructing their web development team to pick up the speed when working on a big development project in an attempt to save the business from having to close its doors. To add injury to insult, if the web developers should fail at this impossible task, they face the risk of being replaced.
At the end of the day, you have a choice over how you want to interact with your web developers. You can either choose to reduce costs at every opportunity that you get or you can make a point of developing your web developers.
Option A – Reducing the costs
Reducing the costs relating to information technology has been one of the major concerns for several small business owners for a couple of years now. This often means that they will not upgrade their software or invest in the latest tools for their web development team. In some instances, they also minimise their running costs and number of web developers and designers by opting to contract work related to web design out to another company.
To be successful in this approach means to fork out as little as you can for the different resources that you need and at the same time reducing the number of web developers while still expecting that your dev team delivers great work efficiently and quickly.
This means that instead of making sure that your team of designers and developers have the necessary resources that will help them to boost their productivity continuously, the expectation is that they will work harder and faster if you simply turn up the pressure.
Option B – Developing your web developers
If you choose this line of attack, you will value your web developers and view them as employees that can perform to a high standard. Your business will strive to create a culture that is open and interactive. You will employ the latest working methods. You will invest in equipment that will continuously help your web developers to make improvements to the systems that you currently have in place. You will give your web developers the tools that they need to create new digital ways in which your customers can engage with your business.
When you opt for this approach, a couple of your most important key performance indicators (KPIs) will be to boost the quality of development, pace, and productivity continuously to make sure that the creative solutions that your business delivers truly satisfies the requirements of its customers.
This line of attack means that your company is of the opinion that its mission statement and procedures need enthusiastic web developers who have been empowered to take part and explore.
So how can you empower your website developers?
The resources that are available to your team of web developers should offer better automation and more extensive integrations. If this is the case, they will be motivated to think more creatively and continue to learn. The beauty of such creating such a conducive environment is that it allows for the possibility that brand new ideas can turn into brand new answers that can deal with more serious issues effortlessly.
Introduce a mentorship programme
You can also implement a type of mentorship programme where those who are new to your crew can work with a more skilled web developer. This can be a great learning opportunity! What makes this strategy so great is that the newer developers can pay it forward by sharing some of their "newer" expertise and knowledge with the "older" employees who might be more familiar with conventional strategies and tools.
Foster the right culture
If you want your web developers to be able to come up with new ways of thinking and just be more innovative, you need to create a culture where continuous learning is the cool thing to do. You can achieve this by motivating your dev team to take part in team-building exercises or activities aimed at teaching them new skills. So, if there is a hackathon, encourage your web developers to take part.
After all, we spend a significant portion of our day at the workplace (even more reason to take measures to prevent conflict at the office). So, strive to create an environment that motivates your team to complete high-quality work and work better together as a unit so that work can get completed faster.
Offer opportunities to go to conferences
If you want to keep your web developers happy, offer them the chance to attend a conference relating to development or design. Though, allow them to decide for themselves which conference they want to go to. Even better, if you can allow your web developer to decide which projects he/she wants to get involved in.
Involve your website developers from day one
One of the biggest problems is that many times website designers, other stakeholders, and the web development team work separately.
This is not efficient and will only frustrate your developers. So, rather invite your web development team to work with you from the start so that all the parties involved can discuss how to tackle the project. Allow them to speak up when they are not satisfied with the quality of the project. It should be seen as a chance to make improvements.
Embrace a circular workflow
Make sure that your entire dev team is invested in the project's success every single step of the way. So, rather than adopting a linear process, keep all everyone involved. This way if a problem arises, your web developer will not feel alone as there is an entire team that can assist in solving the problem.
To help you keep everyone informed and involved every step of the way, you can make use of communication tools such as monday.com, Visual Inspector of Fleep. Digital tools like these can definitely improve your team's productivity, assist you in dealing with communication effectively, and just ongoing management in general.
Learn to say no
When you are working with web developers, you will have to learn that "doing less" is not in all instances, such a bad idea. As a matter of fact, you can be more productive by doing less.
You are probably wondering less of what, right? Start by scheduling fewer meetings and trying to limit how many emails you send. The reason is that many times when we take on too much, the result is several incomplete tasks. Instead, by learning to do less, you will be more focused, and we all know that focus is the driving force behind getting things done. At the end of the day, if we really focus all our energy, we end up achieving much more.
Though, when you send an email, and you cannot keep it short, be sure to keep the face-to-face meeting productive by finding ways to encourage everyone to share their different opinions and regarding website developers' suggestions as equally important.
Use simple words
The secret to any winning partnership is effective communication! As a matter of fact, communication plays such a crucial role that it can be the decisive factor as to if your project will achieve the desired results. For example, when there is a communication breakdown, you run the risk of not meeting your deadlines.
So, to make matters easier for your dev team, it is crucial that you use the correct language. You might think that you will impress your web developer when you use elaborate descriptions, but by keeping things simple and straightforward, you will find that the design process has fewer obstacles. The more your web developer understands your business, the better they can create a professional web design that appeals to your potential customers.
And, if there is something that you do not entirely understand or are unsure about, simply ask your web developer about your ideas. After all, who is better equipped to tell you whether or not your ideas can work. Therefore, just ask from the start!
Avoid big reveals
The issue with a big reveal is that there can be nasty surprises. It is much better to make sure that you communicate clearly for the duration of the project. By doing this, you can also manage expectations to avoid confusion or disappointment. That is also why it is important to have a contract or brief in place.
That being said, when working with a web developer, it pays to be flexible. When a problem crops up during your web design project, be willing to discuss the issues with your team of developers.
Be Appreciative (and remember to show it)
When the project has been completed, acknowledge you web developers' hard work and achievements. This small gesture is also key whenever a milestone has been completed. The best part – it does not have to cost you a cent. It might call for a little bit of effort, but it will pave the way for future partnerships.
The last couple of points to ponder about
There is no denying that at times, designers and clients are not cognisant of how the website development team prefers to operate.
If you want to keep your web developers happy, you need to create a culture where they are free to experiment to their hearts' content. By giving them the opportunities to learn from fellow developers and designers as well as experts, they will be able to improve their skill set. Ultimately, this will help you to improve your business and customer experience too. As a matter of fact, the web developers who boast the most skill and talent are craving to work at a place where there is an uplifting culture that leaves them inspired to do and be more. So, if you want to attract the best developers and designers, these programmes are not merely nice to have.
In many instances, website developers are behind the success stories of businesses. No one needs to be told that in this day and age, every single business requires a truly remarkable website. Now for a small business website to be effective, it needs to be more than just pretty to look at – it needs to boast robust architecture as well. For your developers to unlock their true potential and craft the best possible website, it is up to you to give them the authority to experiment as well as the tools to create a great website design.
How will you treat your website developers going forward? Are they merely part of the crew that needs to bring your ship safely to shore, or are you coaching them how to sail better?
Need some help creating a professional website design, get in touch to discuss our web design services.