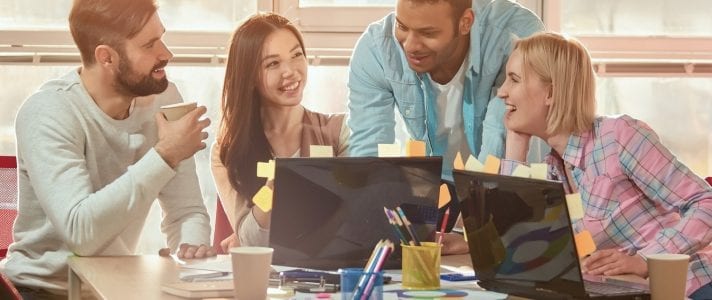 Web Page Design Basics: Essential Elements of a Good Home Page
Your website's home page could simply be an introduction to your business, but, if done correctly, it could play a big role in generating sales. Home pages don't just serve to make a good impression. They should also discreetly lead all visitors down a predesigned sales journey.
All websites should serve a purpose. For most businesses, the main intention is to sell products and services. For others, it's to gather newsletter subscriptions. Once you've decided on an intention, plan your entire web page design with that goal in mind. Make sure each element contributes to that goal.
There's no single web page design template that will suit all brands. Even so, there are generally accepted best web design practices to keep in mind as you design your home page.
Questions to Determine Your Home Page's Effectiveness
Even the best website designs can't work for all businesses. If you're checking out templates and web design options, don't focus on the aesthetics alone. Always think in context of your goal. For example, which specific action do you want visitors to take? Should they subscribe to your newsletter or perhaps buy an item?
Home pages can get tricky because two types of visitors can land there – those who know exactly what they want and those who are just looking around. A good web designer would keep both types of visitors in mind. You need to accommodate both types of visitors and lead them both to perform your desired action.
The Importance of Strategy in Your Web Page Design
On average, you only have 10 to 20 seconds to capture the attention of your visitors. After that, they'll likely decide to leave. That means your web page design should have a perfectly planned navigational flow. This should lead visitors to perform your desired action as quickly as possible.
Additionally, keep in mind that people have a tendency to avoid making a decision altogether when they find that it's too hard or it's taking too long to do so. Keep things simple and make your visitors' path obvious so they don't end up leaving your website prematurely.
Your main goal is to either generate sales or get people to sign up. Though, your first priority should be to engage visitors immediately and keep them on your site. To do this, you first need to understand which roles each website design element plays. You also need to know how to use each one to encourage your desired action.
The Elements of Good Home Page Design
Engaging Above-the-fold Content
"Above-the-fold" is what website designers call everything you can see when you land on a web page, without scrolling down. This is prime real estate, especially considering how little time you have to capture your visitor's interest. This area might be the only thing they see before they decide to leave. Therefore, use it strategically to lead them towards your desired action.
The header is a large part of above-the-fold content. Generally, web designers like to use headers to capture the attention of their visitors. In this section, you can use a headline or subtitle along with a good visual to engage your visitors and give them a great impression of your brand. You can also use a promotional banner to highlight a special offer and further entice them to sign up or make a purchase.
Straightforward Navigation
From expensive state of the art websites to cheap website design, intuitive navigation is crucial. Navigation links are what visitors use to go through the information on your website. It's important to keep your navigation as simple and straightforward as possible.
The best website design will have a maximum of seven navigational links. So, always prioritise content that your visitors will relate to the most and those that will get them to perform your desired action.
Too many navigation links will provide visitors with too many options. Consequently, they might get overwhelmed and simply leave. If you really do have too many things to offer, present them in broad categories. Then, use submenus to present your offerings in greater detail.
The navigation bar is also where you would typically find company information (About Us, FAQs, Contact Us, etc.). However, if these don't serve your goal, it might be a better idea to keep those links in your footer.
Captivating Visuals
A strong visual will be the first thing a visitor will notice, so use this to your advantage and capture their attention right away. You can use visuals in your above-the-fold content in a number of different proven-effective ways that include text on image, slide shows, and videos.
For example, you can use an imposing image and overlay some text with a clear call-to-action. This works best if you want to boost sales for a flagship product or promote a limited-time offer.
When using a slide show to highlight a few items in your inventory, make sure each slide is engaging, composed of an eye-catching visual, and supported by captivating copy. Also, don't be tempted to create too many slides. Decide on a few and place your highest priority as your first slide.
Depending on your brand and what you have to offer, it might be a good idea to feature a video above the fold. Typical home page videos include product demonstrations (to generate sales); company history (to build trust); and pure entertainment (to capture attention).
Direct Call-to-action Buttons
Your call to action should be akin to an exit sign on an expressway. Make sure it's obvious, concise, and perfectly placed. It should easily lead your visitors down the path you want them to take.
A good call to action takes into consideration only one thing: what do you want your users to do? Once you've figured that out, say it in a way that's easy to understand and easy to follow.
An Easy-to-find Shopping Cart
If your ultimate goal is to generate sales, make sure your shopping cart is really easy to find and that your checkout process is as simple as possible too.
Of course, it should be easy for visitors to add items to their cart. Though, what is more important is for them to easily find their cart and go through the checkout process. Some web site design companies recommend the use of a "slide-out" shopping cart. This is a cart that "slides out" from the side. It's visible at all times, but will never disrupt the browsing experience of your website visitors.
Some other effective website designs simply keep a shopping cart icon at the top of the page. However, it helps to use a design that lets visitors know when they have items they haven't yet checked out. Another good idea is to use an icon that has an eye-catching notification when you add things to it, effectively reminding you to check out without being too pushy.
A Powerful Search Bar
Search engines have instilled the habit of performing a search when we know exactly what we want. Having a search bar may be especially useful for your home page if you have a variety of different products or offer massive amounts of content. This way, visitors who already know what they're looking for can go straight to it and make a purchase right away. That keeps them from getting distracted and falling off the conversion path.
Essential Home Page Elements Beyond the Fold
Just because visitors have to scroll before seeing these parts, it doesn't mean that elements beyond the fold are less important. In fact, they support all claims made above the fold. They also provide other conversion paths for visitors who need further reinforcement.
Any web design company would recommend including the following elements below the fold. You don't need to use all of them. Just determine which ones will help you to achieve your home page goals.
Supporting Content
A content-filled website will perform better for SEO. However, filling up the top with content might distract visitors from performing your desired action. Articles and other content are better kept below the fold – especially with ecommerce web design . This will help gain page views without compromising conversions.
Social Proof
Social proof is any good publicity that stems from outside of your company. These include things such as testimonials from previous happy customers, reviews from a couple of experts in your field, and any positive experiences with your brand that are worth sharing. You can gather these from direct messages, review sites, or social media. Use them on your home page to help convince visitors to make a purchase or at least subscribe.
For example, your website designers can pull positive mentions from your different social media platforms such as Facebook and Twitter and publish those mentions below the fold where visitors might scroll to for further convincing.
Additional Products
Just because you have one or a couple of flagship products highlighted above the fold, it doesn't mean that you should completely ignore all of your other products – display older products or those that have smaller margins below the fold. This is also a great place for add-ons to complement some of your featured ecommerce products.
For example, you can place a featured product with a clear call to action above the fold, and then when your website visitors scroll down, they get exposed to add-ons they might buy along with the featured item.
Lower Priority Pages
Lower priority pages are typically those that you're required to have to show the legitimacy of your business but aren't directly involved in the conversion path. These web pages might include terms and conditions, policies, and other technical or legal content. For some websites, this could include store locations and contact information. Links to these should work well below the fold, or more specifically, in the footer where many web users are already conditioned to find them.
Of course, this really depends on your business model as well as your goal for your website. For example, if purchases are most of the time actually done in the brick-and-mortar store, it makes sense to feature the store locator more prominently above the fold.
Always Opt for Responsive Design
So much of web browsing and even buying are now done on mobile devices. No matter what, consult with your web developer to make sure your web page design is responsive so that it appears properly on any device.
In mobile devices where screens are so small, your web page design is even more important. Use your real estate intelligently to lead users down your chosen conversion path.
Constantly Improving Your Home Page
If you know your target audience quite well, it's easy to assume their preferences as well as behaviour. However, you'll only know for sure if your assumptions are right once you have enough data to draw insights from.
As you run your business online, constantly study your website metrics. Find out where visitors are coming from, what makes them buy, what makes them leave, and so forth. Keep adjusting your web page design to accommodate those learnings and you can expect to enjoy a positive sales trajectory for a long time.
Need some help with your website design? Contact our friendly Melbourne web development team.