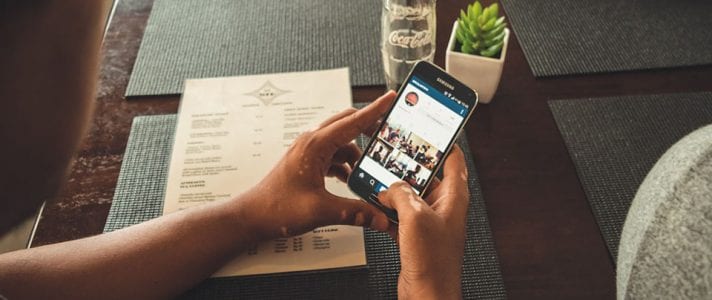 Top Tips for Better Mobile Website Design
Over the past few years, mobile website design has skyrocketed. The vast majority of people who own smartphones browse the web on a daily basis and use their devices to interact with businesses – research from Google shows that 51% of people have used their smartphone to discover a new company or product. Luckily there are countless top tips that you can keep in mind when optimising websites for mobile screens.
Think proactively
The world of smartphones is continually getting upgraded. As new models and new features are launched regularly, web design experts will have to adopt a more proactive approach that is on par with the latest technologies.
Get to know your target audience
Acknowledging the type of mobile device your target audience uses will help you to develop a more accurate and efficient design. In other words, keep in mind that not everyone has smartphones, and not all smartphones work the same. Luckily you can research the exact devices your target audience uses with the help of Google Analytics.
Consider mobile website usage and behaviour
There are many myths surrounding mobile website access that can often lead to poor design decisions. One common misconception is that smartphone users only access their device on the go and have only a few moments each time to spare. However, the fact is that a large number of users access their smartphones during their spare time. Therefore, it's better to understand how your target audience uses their phones to make better design plans.
Consider tasks and the context
In the past, mobile phones had many limitations and were mainly used while on the go. Nowadays, mobile devices can be accessed from anywhere and for any given context – even for desktop-related tasks. The user's surroundings have a significant influence on how they choose to use their mobile device, and you better keep that in mind.
Ditch several bespoke websites
In most cases, building a personalised mobile website is necessary due to the limitations of current technological systems. However, there is no need to waste your resources making several bespoke mobile websites for each mobile screen. What you should do instead is to develop a mobile website that is flexible and works for most screens – responsive websites do just that. Having two versions of your website can also cause duplicate content issues, harming your SEO and causing you to rank lower in search results.
Keep your content uniform
You may assume that your mobile content should differ from your regular desktop content, but think again. Smartphone users, as explained earlier, are accessing their smartphones more often for desktop-related tasks as well. The good news is that you don't have to craft different content for different versions of your website.
Optimise for mobile screens
Of course, it's smart to keep your core content uniformed across different platforms. However, that doesn't imply that you shouldn't make some minor adjustments and optimise your website for mobile screens. Consider display aspects and ensure your content is interactive and works across mobile and touch screens.
Search for entry points before launching an app
Mobile apps are for a more "concentrated" user experience. However, you have to do some research before you decide to expand your services with a mobile app. That includes market analytics and searching for possible entry points. If, for example, most traffic seems to come directly, this is a sign that they have bookmarked your URL and so an app could be useful for your target audience.
Check analytics to find out which devices you should concentrate on
Your website analytics can be a powerful tool for highlighting which devices are used to access your website, and additional details like screen size, OS, and device version. Google Analytics can give you all this info, but you can find it in other tools as well. Use this information to create the best web design for your users and the devices they are using.
Think of different apps and coding
Some kinds of apps like Instagram use a universal and adaptive coding system that works with nearly every OS. However, some other apps like Facebook are hybrid, which means that they use HTML5 to offer native navigation. The right choice for you will depend on your goals, budget, and the frequency of upgrading your content.
Stick to user interface aspects
Each OS comes with its own set of rules and specifics that users are accustomed to. You can't simply develop an Android-base app solely on an iOS app design without optimising it for Android as well. Acknowledge their differences in terms of user interface and adjust your design accordingly.
Check for reverse compatibility as well as fragmentation
Even though on the surface, there are only a couple of operating systems available, your mobile design decisions are not a binary choice between Android and iOS only. Each OS comes with its own variations, and users may use the latest or an earlier version. Adoption of newer versions according to studies are slower for Android while for iOS, adoption rates are higher. Thus, make sure that you develop a website design that isn't working only on newer versions, but on earlier versions as well.
Set your grids
Smart website design and setting your grids and break points go hand in hand. There are a bunch of tools you can use to set the number of your columns, their dimensions, and their other attributes. Experimenting with different resolutions and layouts is the key to boasting smart and responsive mobile website design.
Mobile-first or desktop
The dilemma of whether to choose a design for mobile-first or desktop is still relevant – there is much debate surrounding the issue. A good approach here would be to focus on your content and your mobile users with a responsive web design.
Set your content placement or layout
In most cases, the items in the left column will appear automatically at the top as you navigate through a smaller screen, followed by the centre column's items, with the right column's items appearing last at the bottom. This will happen by default unless you define the attributes of these modules and their layout against each other. We suggest that you use a simple numbering sequence first (for example module 1, 2, 3) and arrange each of these the way you want them to appear.
Don't skip navigation
Navigation is a crucial area that even website designers sometimes miss. There are various navigation patterns to be set for more responsive design, each coming with their own pros and cons. For example, you can choose between left or right navigation, a footer-only navigation, a select menu, and other options. Experiment with these different options and see which ones are most efficient in terms of responsiveness.
Don't be afraid to try something new
There is a sea of info, guides, and tutorials available online that you can use as your basis. However, beyond these design fundamentals, you should think more proactively and perhaps try something new that others haven't attempted before. The mobile world is moving rapidly, so the only way to keep up is to break away from how something is usually done and try something new.
Not every single page has to have a wireframe
It's quite easy to fall into the trap of developing a wireframe for every single page or screen. However, you don't have to do this. What you should do instead is to use your analytics as your basis and discuss with your web developer to find a solution that works for most pages.
Work thoroughly
If you wish to get the best results possible from your mobile website design, there should be some collaboration across different disciplines. Many of your design issues will go unnoticed until the point where your sketches turn into designs and designs into implementation. The more these work along with each other, the sooner you'll find any loopholes so that you're able to fix them.
Do some prototype testing
Another major consideration when it comes to designing for mobile screens is to take the first draft and test it. Collaborate closely with the team of your web design company to find out whether or not your prototype version works in action. You can also ask for your target audience's feedback and opinions with the help of online forms and surveys on the matter (for example, you can ask which version they like better).
Display content fast
The most efficient mobile websites are organised, clean, and fuss-free. Try to see your content from a visitor's perspective and share content fast. On top of that, people also expect to see content in a specific order. So, do your research and adjust your content's layout accordingly.
Minimal layers help navigation
Aim to keep up to three layers of navigation when you are designing for a mobile screen as users are accustomed to easier navigation patterns. In some cases, just two levels of navigation are enough.
Design from a user's perspective
Aim to use a mobile screen not only from the mindset of a website designer, but also from an ordinary user's point of view as well. Test your web page design and ask your clients to test it as well and share with you their feedback.
Pick a suitable web font
While it's suggested to avoid using serif fonts heavily as they tend to look rough around the edges, smartphones have progressed enough to display more creative fonts as well. You may also embed different fonts and sizes on your mobile website to cater to different users.
Don't focus too much on the differences between mobile devices
People use all kinds of mobile devices, and no single device is being used by everyone. While you should acknowledge this fact, the differences among various screens are only minor, and their technology is roughly the same. If your content is worth checking out, it doesn't really matter how each device displays your layout.
Keep on testing
With so many devices and versions available, it's next to impossible to check how your mobile website appears on each. While it's important to test your design across different devices, you should follow a more universal approach and keep on testing to spot any issues such as website appearing on iOS but failing to render on Android.
Take battery life into account
It may sound odd, but battery life is an aspect that you should take into consideration when . Website visitors want to access your page without worrying that their battery will drain excessively. Some websites require more resources to load than others, which is something that influences device battery duration. Therefore, do not add too many HTML5 extras such as geolocation positioning that will "eat" user's resources and battery life.
Accept your restrictions
Do not fall into the trap of trying to find a place for every single detail in your mobile website design. Some things are more suitable for desktops than mobile devices. For example, location-centred content is more useful in mobile devices, while static material is more suited to desktop screens. You can't try to fit it all in one website design.
Keep text input minimal
Unlike desktops, users of mobile devices don't have the time or energy to insert long strings of text when using your website. As a matter of fact, many users would find that quite annoying. Therefore, aim to keep text input minimal and do not require your users to input long pieces of text to interact with your website, such as through online forms.
Accept the winds of change
For better or worse, mobile technologies are constantly evolving. What has worked two years ago may not be suitable for today's demands and vice versa. You may use your professional judgement and intuition, but still, nothing is guaranteed and make sure that both the website designers and the client are aware of this.
For more information on how mobile website design can work for your business, contact our friendly Sydney web design team.