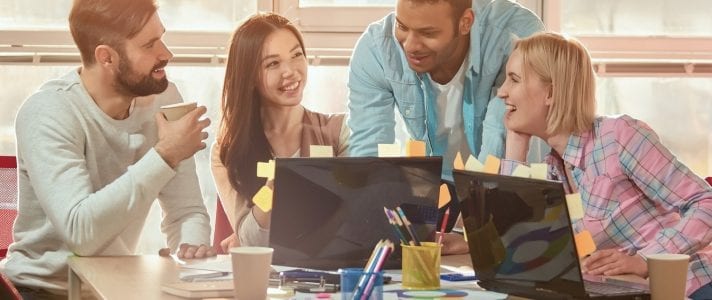 The Top Traits of a Talented Logo Designer
It takes quite some special expertise to be a great logo designer – and not just design-related skills. In order to come up with a great logo design (in other words a design that is relevant, versatile and iconic) a specific type of personality is needed.
So, if you are searching for someone to design your logo or you are trying to become a better logo designer yourself, here are the top four non-design skills that every logo designer should boast.
The Ability to Research
Truth be told, most owners of small businesses and start-ups have never been taught how to create a brief. This means that whenever logo designers are designing logos, it is up to them to find out more about the specific industry of the client and the other rival companies. As a matter of fact, some clients do not even have all this information at hand. And it is not just start-ups that are guilty! Bigger companies are also to blame as some of the bigger businesses are ignorant about the process and as a result do not share nearly enough info with their team of designers.
The Ability to Analyse
After a logo designer has gathered enough information, it is time to start analysing. In order to come up with a few possible concepts that could work, logo designers should use tools like mood boards, colour wheels and mind maps. Though, logo design involves more than practical work. Great logo designers are able to draw conceptual links between a problem and a design. In short, great logo designs have a concept.
The Ability to Plan
Now that a few possible logo designs have been identified, a great logo designer will give thought to the context. Logo designers should be able to consider all the different places where the logo will be used to make sure that the final design will be able to adapt to a website, brochure, business card or wherever else it needs to be used. Thus, great logo designers know that versatility is absolutely key.
The Ability to Communicate Clearly
Excellent communication skills are important to most industries. Though, when it comes to logo design, the ability to communicate clearly is especially important. Most of the time business owners have limited knowledge about design and so logo designers have to teach their clients about design. On top of that, logo designers many times have to explain to their clients that design does in fact play a really significant role in their business as many owners fail to see the importance of custom logo design.
So, any good logo designer will take it upon himself/herself to change the client's view regarding design. Let us face it, this extra step can be really time-consuming and therefore quite understandably so many logo designers skip this integral part of the business logo design process. However, by going the extra mile, logo designers can help to ensure that their clients' businesses thrive. Needless to say that this calls for great patience too!
For more information about our services contact our Melbourne web designers.