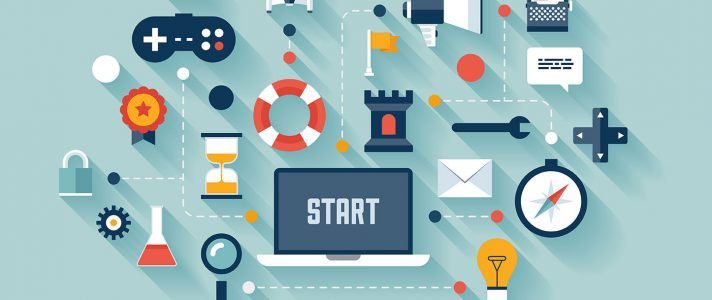 The 10 Easiest Ways to Start Marketing Your Website
So you have designed a website, you've had your content written, and everything looks great. Except now you have one big problem; how do you actually start getting some traffic to your website? Unfortunately, visitors are not simply going to come automatically, no matter how inviting your site looks. Instead, you are going to have to implement an online marketing strategy to get your traffic off the ground.
Here are 10 of the easiest ways to start marketing your website. While some of these may cost money, initial investment is crucial if you want your website to demonstrate any noticeable returns for your business.
1. Social Media
First up is social media. It is very likely that a high percentage of your potential customers are using social media on a regular basis. Use that opportunity to create a presence for your business on the most popular platforms and direct your new found followers to your website. Some of the most commonly used platforms for small businesses are Twitter, Facebook and Instagram.
When it comes to the content on your social media profile, you want your posts to be written in a conversational and engaging way. They need to reflect your business' branding, include content that your customers would be interested in and share relevant industry information. Instead of direct selling, businesses need to be non-intrusive and consistently helpful. Your posts should always direct readers back to your website for more information.
2. Email Marketing
Next up is email marketing. Although there has been some negative publicity over the years due to the mass-spamming, email marketing is still a highly successful method of marketing. In fact, it still holds the title for achieving the highest ROI (return on investment) compared to other inbound marketing methods.
To get started, you need to create a mailing list and give people a good reason to opt in. This is usually done with some form of free giveaway, which requires the visitor's email address submission to receive the incentive. The subsequent email campaigns are then used to direct people to your website for different reasons.  Email marketing provides excellent conversion rate and it's relatively cost effective and easy to set up.
3. SEO (Search Engine Optimization)
SEO is especially effective for small businesses due to Google's recent orientation towards local search results. While the specifics of what Google bases their results on is not made public, some well-known best practices to optimize pages include;
Creating content based on keyword research
Using relevant keywords throughout the text naturally
Using images and videos (That have keywords in their titles!)
Linking to relevant websites and including proper formatting (including H1 and other title tags)
By following best practices and continually testing what is working and implementing any changes, you can optimize your site to rank highly in search engine's results pages. Not only that, you can also fine tune your keywords to reach additional segments or more targeted niches as your business and market evolves.  For more complex SEO tactics such as on and off page optimisation, it's always a good idea to get in contact with your web design company for further guidance.
4. PPC (Pay Per Click)
With PPC Advertising, you use internet advertising outlets such as Google AdWords, to position your ads near the top of the search results for your chosen key terms. The amount you pay Google, is based on the number of times people click your ads and how popular the 'bid' is for that specific keyword. You can also cap your budget, so that your bill does not get too expensive if more people click on your ad than you expected.
Because PPC involves investing money, it is wise to do some research or seek advice. However, this marketing method has shown to be worth investing in, as it is a highly effective method of obtaining traffic with a higher conversion rate.
5. Website Copy and Content
Driving new traffic is only half the battle. You also have to convert that traffic once they reach your website. Make sure that key pages which new visitors are likely to interact with (for instance the Home page, About Us page and other Landing Pages) are up to date and focused on getting them to take a specific action. You want copy to be catchy, clear, informative and personable. It should communicate your business' value and function like a 'pitch'.
6. PR
The more PR you do, the more word will spread about your business. Press releases are a great opportunity to market your business every time you have an announcement about a promotion, new product, new service, etc. Although press releases themselves can be expensive, they are a great way to be picked up by industry bloggers and increase your SEO backlink profile. Keep in mind that PR doesn't have to rely just on press releases- you can start by creating a Google My Business profile and ensuring all online channels are consistent with your PPC and SEO strategies.
If you're really strapped for cash, consider posting press releases on your website and using more cost effective promoted posts on social media to drive traffic to both your website and the post.
7. Referrals and Online Reputation Management
If you have a lot of happy customers online, they're likely to advance your business with recommendations and positive comments. To maximize this effect, be visible in the places your target customers are likely to be or leave reviews for you. Not only this, but if you come across some negative reviews you can seize the opportunity to address the issue professionally in a public forum.
Make sure that you are regularly monitoring and commenting on any outlets that are relevant to your industry, such as TripAdvisor, Yelp, forums or Facebook groups.
8. YouTube – Video Marketing
Video is an important force for marketing at the moment, and YouTube is the largest video hosting service in the world. Video has been shown to increase user engagement and visitor conversion. While some videos do go viral – they don't have to in order to be effective. Also contrary to popular perception, they don't need to cost a fortune to produce.
eSpares who are a UK wholesaler of spare parts exemplifies how small businesses can produce valuable and cost effective video content. Some of eSpares videos have more than 120,000 views alone! Remind yourself that these videos are about spare parts, so they aren't 'viral' in the slightest- but they do provide valuable information for relevant audiences. Businesses should be using videos to help explain their business, show products, provide tutorials etc. The use of video will help engage your customers, increase conversions and will give visitors a real life introduction to who your business is.
9. Paid Ads and Remarketing
Most of the social media outlets, including Facebook, Twitter, and Linked In, also offer the opportunity to implement paid ads to make your content visible to a wider audience. These ads operate in a similar way to Google's Adwords, in that they are effectively PPC.  Remember to keep these ads audience-specific and targeted for a better conversion rate.
Speaking of targeting audiences- with 'remarketing' you can place a tracking cookie on your visitors' browser so while they browse the internet they continue to receive advertisements about your products or company. This method has demonstrated high success rates and works particularly well for eCommerce sites because they can be highly targeted.
10. Offline Marketing
Along with all of these online marketing tactics, you also need to reach your offline audience. Do this by updating your business cards, branded collateral and even your vehicle signage to include your website's URL. By referring offline marketing and collateral to your website, you'll be able to boost your traffic and re-engage your existing customers.
If you execute these ten steps, your traffic will start to grow and your website will become a valuable place for people to return to. This is what you want to achieve in order to attract qualified traffic that will convert into customers and hopefully, on-going sales.