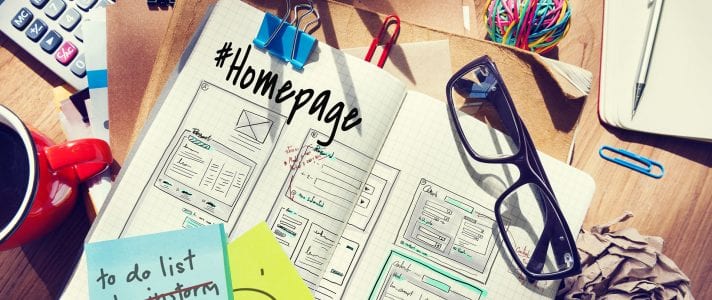 How to Develop a Website: Tips and Advice for New Website Designers
A robust online presence is very important for the success of a new small business. However, when you are a newbie at this, developing your own website from scratch can be an overwhelming process that takes time, effort, and resources to accomplish. If you do not know the basics of website design, you will risk making mistakes that will ultimately hurt your business, even if you hire a professional website designer to help.
Whether you wish to launch your own website from scratch or make it for someone else, here is a step-by-step process to guide you through it.
Define your goals
The development and launch of your website should always be based on a good and solid plan for higher chances of success. Begin by clearly setting your goals and the positioning of your business online before doing anything else.
Ask yourself the following questions… Will your website serve your brand's purposes? Will you be selling physical products or promoting your in-store services? Will you use it as a means to gain email subs? Next, ensure that your website's elements match your brand's identity. Aligning your small business web design with you overarching business objectives is crucial to the success of your web development project.
Explore your options
Curiosity is a good thing here as it fosters inspiration for new ideas. If you wish to enhance your website design and creativity, look for places that provide plenty of template options to choose from, that you can later customise to suit your needs. You can, for example, draw some inspiration from Pinterest and Instagram. Choosing the best website designs couldn't be easier.
Get your content ready
Now that your web page design has been chosen, you can begin to work on all your visual and written content (for example, text, images, graphics). It is wise to have all your text and main content ready before the official launch of your website. This may consist of paragraphs of long text, headers, an about us page and calls to action.
The good thing is that you can always change things if something proves to be a mistake (either on your own or with the help of a web design company). It is also a very good idea to you keep your content up to date, seeing that search engines favour fresh new content.
Begin with a solid content plan that includes both verbal content (for example, text, and visuals like buttons and graphics). However, as the old saying goes, quality is more important than quantity.
Showcase your best and newest content first. It is generally more efficient to give your visitors a small "taste" and make them come back for more compared to adding excessive stuff that may confuse or annoy the visitor to the point of making them leave your website. You also want to make sure that your website's loading speed is fast. People are impatient or simply do not have the time to wait more than a few moments for your website to respond. If it takes forever to load, they will simply quit and search for other websites instead.
Create an extensive sitemap
You can think of your sitemap as the web development architectural plan of your online "home" (also known as your website). A sitemap will include all the web pages that you wish to develop, their order, and their connection to each other. Search engines like Google are favouring pages that link to one another, and this yields better search ranking results. However, the best web design is the one that makes it easy for the visitor to jump from one page to another, without many links.
All things considered, an extensive and complete website should include the following aspects: a welcoming home page; an eye-catching gallery that showcases your products and services (this is where visitors will explore your offerings); a solid about us page and a page with your contact details like email address, telephone number, social media profiles and physical address.
If you wish to go beyond the basics, it would also be a good idea to include the following:
A blog about your business. By keeping your blog active and frequently updated with fresh new content, you can both establish yourself as an authoritative source in your sector and enhance your SEO campaign as blog posts will enhance your visibility in search engines online. Make sure that it is in a separate page on its own as well as in the footer area of your website.
A useful section with frequently asked questions. A FAQ section can save you and your clients valuable time and effort in answering common queries that would otherwise take a lot of time to be tackled for each user separately. Make sure that you include all these questions and their matching answers in a separate page on your website.
A page boasting your top testimonials. If you have a list of satisfied customers already, ask them to leave feedback on your testimonial page that can serve as an online proof of how you have done a great job. Buyers are always looking up reviews from other customers and therefore dedicating a page with positive client reviews will certainly catch their eye and influence their decision to support your business instead of a competitor.
Use the right colours in your web design
Whether you realise this or not, the use of certain colours can make or break your website and your brand in general. Colours have the ability to evoke certain emotions and reactions, depending on the context in which they are used. Your website's colour theme does play a part in the impression that the visitor forms about your website, the duration of their stay on your website, and other important metrics.
Of course, this does not mean that you should use fancy and multiple colours to catch the attention of your website visitors. If you wish to keep things safe, opt for solid and pure colours like white and light blue or black in the background. Use only two colours in all your secondary elements, for example, menus and buttons, as they are easier on the eye.
Choose appropriate fonts
Besides choosing the right colours, the fonts that you choose to use are also very important in making your website appear neat and crisp. Based on the latest font trends, creative and modern fonts are "in" but you can use any font, as long as it matches the identity of your brand and does not take any attention away from your messages. You may experiment with one or more fonts and do a comparison to see which ones are more appropriate for your website.
Add the final touches to your website design
Just like the cherry tops a cake, your website will miss "something" if no finishing touches are made, no matter how small or insignificant they may seem at first. You can, for example, add animations, moving graphics, adding demonstration videos and other aspects without necessarily having to alter the HTML code of your website. Even just a couple of small finishing touches can give your website the oomph that it might lack.
Keep your website neat and organised
The visitors of your website need to feel familiar and comfortable when they are browsing the different web pages and sections of your website. This is why it is best to keep your website as neat and organised as possible. There is a certain order of content that you may consider when you are attempting this: your most important and eye-catching content should be positioned first, above the fold. The "above the fold", if this is the first time that you are encountering the term, is a key area that shows up on the screen of your visitors, without them having to scroll down to view it.
Keep in mind here that most of your website's visitors will only skim and scan your content quickly. In more specific terms, this means that they will most likely only look at the top and bottom of your web page. Thus, it is important to display all vital information in the top and bottom sections and use the areas in the centre for less important info.
Showcase your social media presence
Use the power and potential of social media platforms such as Facebook and Twitter to encourage the sharing of content between users and spread the word about your new or existing online business. It bears minimal to zero costs and is really a very efficient method for boosting your brand online and interacting with all of your clients. To make this possible, add a bar with social media buttons on every web page and posting of your website. A great website design tip is to display this in the header, footer, or an anchor on the sides of each piece of content.
Do not forget about search engine optimisation (SEO)
Even though this practice may seem overwhelming, search engine optimisation (SEO) is actually essential for your website as it optimises your content for a better ranking in the search engine results. This implies that the higher you appear on the search engine results, the more incoming traffic you will have to your website and the more leads who are interested in your products or services you will get as a result. It may appear as if SEO is only a post-design aspect of your website, but it is as a matter of fact, not the case. Even if you have a creative web design that is visually appealing, it won't gain many eyeballs if you don't implement SEO best practices.
First of all, you need to pick a suitable domain name for your business, insert a description for all of the pics that will appear on your website, and use headlines and descriptions with keywords on all of your web pages. Luckily there are platforms that have made the process much easier for you thanks to special SEO tools and guides that show you the ways to easily boost your website's SEO from scratch. It does not get any easier than this.
Make sure that your website is mobile-friendly
It is a well-known fact among web designers and web design companies that there is a huge number of users accessing websites via their mobile devices, especially over the last couple of years. The number is expected to rise even more in the near future. And, as you have guessed it already, you better have your website optimised for such users, or you will miss out on a huge market here.
A key aspect to focus on, when optimising your website for mobile screens, is the clear navigation and readability of your website. For this reason, include things that make user navigation easier, for example, link shortcuts to various web pages of your website or direct links and contact forms so that potential customers can directly reach out to you. It is important that mobile users navigate easily through your content without having to scroll down or use a bunch of links to reach their target page. This makes the perfect mobile user experience.
Ask for external feedback
Everybody can benefit from a little external help. Whether you choose a web design company or your trusty friends to give you a second opinion, you can open your eyes and see things that you have personally missed such as a copy with spelling mistakes, missing punctuation, incoherent sentences, inappropriate graphics or colour themes, difficult navigation from one web page to another, and so forth. So, make sure that all the key and secondary elements of your website are clear, organised, consistent, and match the identity of your brand or business. Finally, see to it that your website appears fine on mobile screens and other screen sizes. To help you with this, you can ask friends or customers with access to different screens and devices to check out your website design.
For more information on how good website design can help your business, contact our professional web design Melbourne team.