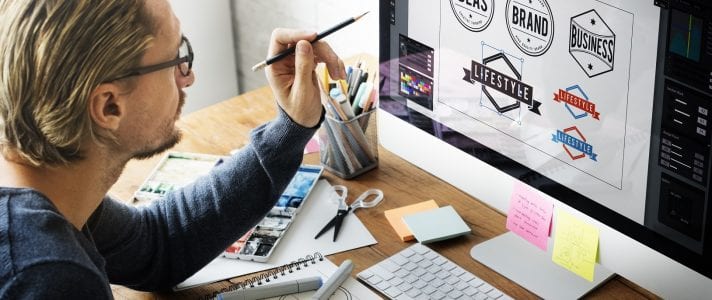 Five Ways to Add Impact to Your Business Logo
For a beginner, designing a business logo doesn't seem a very complicated job. However, that's not entirely true, considering the number of skills necessary for the job. So getting the right custom logo design for your company demands painstaking efforts, as well as in-depth knowledge about different areas.
Considering that logos represent brands, designing one means summarising the brand's image perfectly so that people can immediately recognise and relate to the brand. A logo design has to be impactful, inspiring, beautiful as well as effective in raising interest. But how can all that be done?
Be Unique
In today's world, there are thousands of brands that sell similar or identical products and services. In order to attract customers, brands have to come up with selling propositions that make them the obvious choice.
As such, brands need very strong and memorable visual identities. An original business logo helps with the brand positioning strategy, making a company unique and helping it to differentiate from its competitors. For that, logo designers need inspiration, creativity and very strong analytical expertise.
Address Your Target
There are plenty of unique and creative logo designs on the market that don't work because they're not relevant for the target audience. The purpose of a business logo is to represent the identity of the brand, not to sabotage it.
As such, the fonts and images are very important. Playful fonts and colourful images might be appropriate for a toy store, but not for a funeral home.
So a logo designer needs very good research skills, as well as a thorough understanding of the brand's identity, mission and vision. A good knowledge of the audience's needs and wants is also essential.
Build Adaptable Logos
Versatility and adaptability are high on the list of ways to build impactful business logos. Consider all the media and channels where a logo must appear: from print to television, from banners to websites, a business logo design must fit them all.
That means you need a scalable custom logo design that is easy to see in a variety of sizes. The same goes for colour: you need logos that look great in reverse colour, black and white or just one tone.
Become Unforgettable
Some brands have business logos that everyone recognises. These are so easy to remember that people know exactly which brand they represent. Recognising and remembering a brand that stands out facilitates a purchase, whether we're referring to stock companies or consumer goods.
As such, memorable logo designs exude simplicity and they become iconic, which imprint the brand in the consumers' minds. That helps it connect with its target audience on an emotional level, increasing loyalty, sales and the brand community.
Think Evergreen
Using tradition to your advantage creates timeless brand identities. Of course, brands want to be trendy and modern, but logos shouldn't change with the seasons. In turn, impactful business logos are evergreen and, therefore, effective for the long haul.
Business logos represent brands and convey meaning, so they become symbols in their own right. Simplicity is the golden rule for logo design, helping them become effective, memorable, timeless, easy to recognise and adaptable. All these characteristics are, in fact, what brands themselves strive to become.
Please check out more information about our cheap web design services.