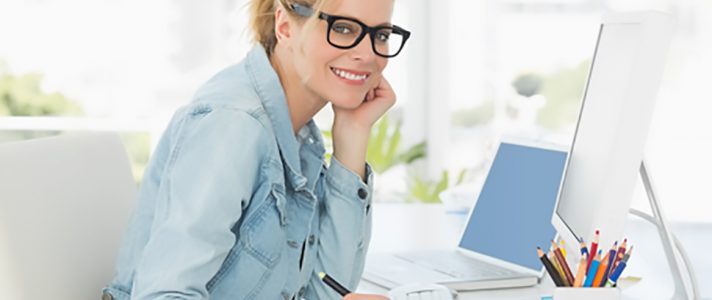 Marketing Wisdom from Brands that 'Get' Content Marketing
(Includes 16 Actionable Takeaways that will Rock Your Content Strategy)
Great brands have that uncanny knack of trail blazing best practices before others have even dreamt of it. Going against the tide armed with prescient convictions can be dangerous in the short term, but tends to pay off rich dividends in the long run.
Take Google for example. In an age when flashy, twinkling banners and copious colours dominated every page on the web, Google decided to chart a new territory by embracing white space. Today, nearly every website is engaged in pruning their fluff to give white space the place it deserves on every page.
The same is true today of brands becoming publishers in their own right.
Here's our pick of some fabulous brands that have done a great job with their blogs and learnings that can be taken away for future reference.
GE makes its presence felt in our everyday lives on light bulbs, cooking ranges and everything else in between, all carrying the familiar cursive logo. But GE is a lot more than light bulbs. They manufacture jet engines, power plants, precision medical equipment, even space technology is not off limits for this technology behemoth.
Now how does a tech giant connect with users in a world dominated by Kim Kardashian and the latest celebrity gossip? By making technology fun, interesting and relevant to mass markets.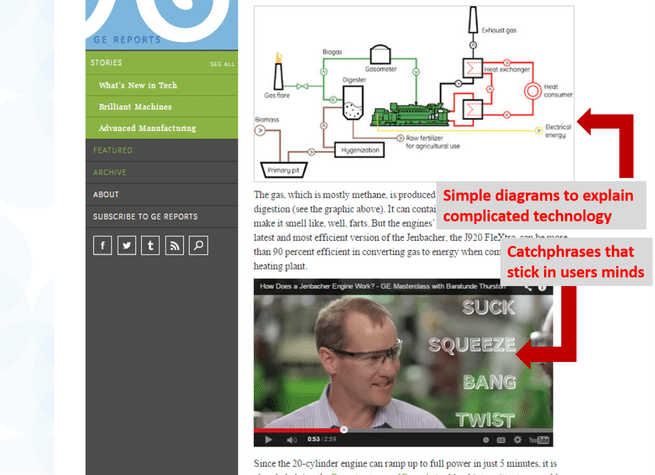 The blog makes high technology accessible to the average guy on the street by simplifying the jargon and making it as simple as pie. GE even use catchwords like "Suck-Squeeze-Bang-Twist" to describe how an engine works.
Unlike many other technology blogs, GE manages to keep their content entertaining yet scientific at the same time.
Actionable Takeaways
Don't be Tone Deaf: Don't let your industry slot you as 'serious' or 'boring'. The idea is to connect with your users. If that means loosening your tie and sharing your story, then that's the way to go.
Go Multimedia Friendly: Most blogs use just text to put their point across. Don't be afraid to mix it up as and when you need it. It is a scientifically proven fact that people grasp more information through visual cues than through text. In just one blog post GE uses two videos, one infographic and a diagram to explain their content.
Socially Yours: You've heard it a million times before, but here it is again – make it easy for users to share your content. GE offers sharing buttons inside each post, they also have large sharing buttons that show up when you mouse over each post snippet on the blog homepage.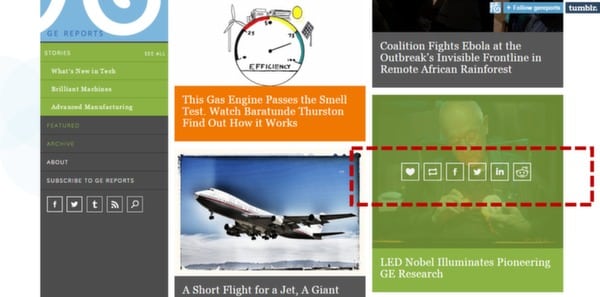 The mere mention of Disney brings to mind color, fun and loads of childhood memories. Disney Baby – the baby merchandise division of Disney taps into the deep treasure trove of content that Disney has amassed over the years to blow 'Disney Magic' dust in the eyes of new mommies (just kidding!).
The Disney Baby blog combines topical content with clever marketing. Personal voices are given precedence over outright marketing pitches (though there ARE those as well). Every blog post manages to link back to something that a Mum or Dad who are reading the blog would love to buy for their kids.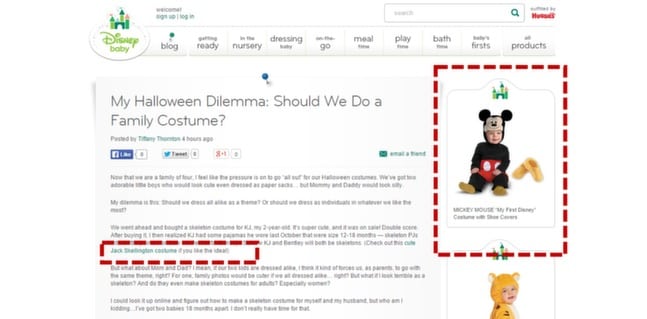 Taking a cue from the fact that over half of Americans trust user generated content over branded content on a company website, Disney Baby makes the case for their products even stronger with user generated images of families dressed in Disney baby fashion. Show me one person who wouldn't go 'Awwww!' over this little pirate pictured on this post!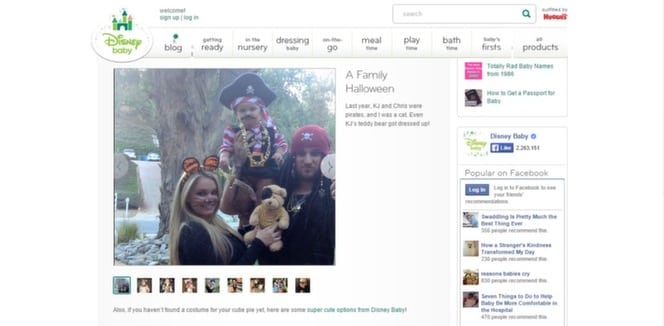 Actionable Takeaways
Don't be Afraid to Pitch Your Stuff: Just because it is a blog, does not mean marketing your products and services to readers is off limits. In fact, cleverly blending your content with your product pitches is a great way of subliminal marketing via your brand blog. Take notes from the masters of subliminal messaging – Disney. Just don't go overboard in the process of pitching. Keep it natural, not in your face.
Hooray for User Generated Content: Users trust other users more than they will ever trust what you have to say about your own product. Tap into your existing customer base and ask them to post on your brand blog. The credibility points that you will win with posts like these will be unmatched.
With a product as mouthwatering as ice cream, you would think Turkey Hill wouldn't have to bother with content marketing at all.
But Turkey Hill manages to create communities of engagement around its brand with its cracker of a blog. The blog (obviously) focusses on ice creams and the millions of delicious ways of eating them, making them, combining them with other foods and so on – things that any ice cream fan would love to know.
It keeps every post extremely interactive and builds a sense of community around the blog with the type of content it writes about – local events, contests, quizzes, content from users and so on.
Turkey Hill borrows the concept of appointment viewership from prime-time television and creates 'appointment readership' for time bound content, leading to record engagement rates on its blog.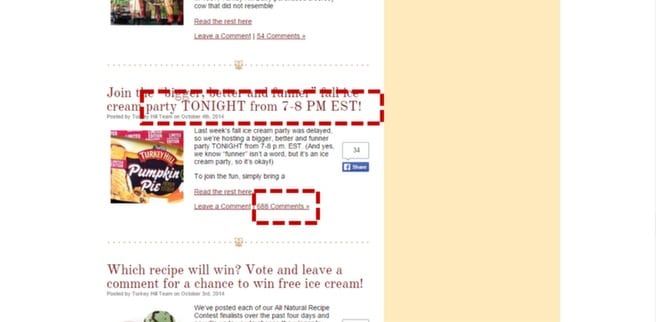 Actionable Takeaways
Conversations, Not Monologues: Your blog may be your mouthpiece to the world, but it also acts as your listening ears. Create content that sparks engagement and encourages users to comment on your posts. Never fail to reply to user comments and build conversations around topics that your users care about. This not only makes your brand more relevant to the user, it also offers you tremendous insights into real user concerns.
Keep it Fun: Who said your blog had to always have an agenda? It's alright, in fact, it's important to let relax once in a while and just have a personality. Posts like these let users know that you don't take yourself all that seriously and yet subtly convey your brand message across.
If it has to do with healthcare, Johnson & Johnson have something to do with it.
On its blog Johnson & Johnson uses its position as a respected authority figure in all matters related to health and infant care to reach out to its users. It associates with large global organizations to cement its position as the go-to medical brand of choice.
Instead of outsourcing their content to random third parties, every piece is written by key J&J employees who use the blog to talk about their own areas of specialization. This personal touch lends the blog its aura of authority and credibility that is unmatched by brand blogs written by outsourced writers.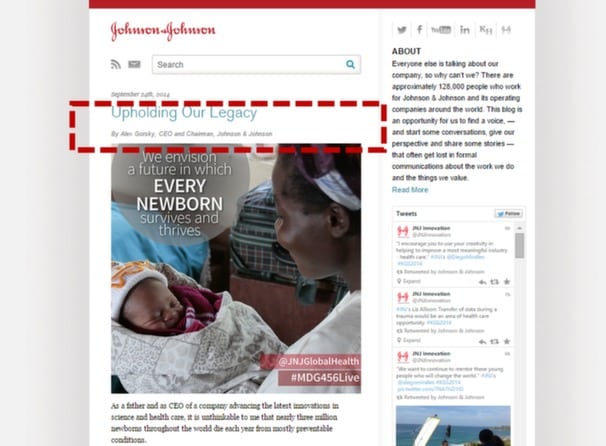 Some very striking aspects stand out in J&J's blog, including its resourceful integration of social media into the blog, the large search bar that dominates the top of the blog, the efficient categorization and archiving of content and more.
Actionable Takeaways
The Personal Touch: Use your blog as a means of conversing with your users on a one-on-one basis. Getting your employees to contribute to your blog makes them more involved in the company, increases a sense of ownership among them and makes them authorities in their own right. It also tells your employees that you value their opinions and knowledge enough to let them speak on behalf of your brand. From the perspective of readers, it gives them an insider's take on matters that are relevant to their daily lives.
Cross-Promote Other Platforms: J&J beautifully showcases and subtly promotes its various other platforms through its blog – the Twitter feed, the YouTube channel, other social sharing buttons. Use your blog as your content marketing home. Showcase and cross-promote all your various content marketing efforts to maximize reach and impact.
Make Content Easy to Find: Many blogs offer readers categories and subsections or tag clouds as a means of finding topics relevant to them. However, J&J digs deep and offers the best way to find stuff on their blog – a large search bar you can't miss.
The frontrunner in the 'eat local, eat organic' movement, Whole Foods lives up to its brand promise via its blog.
The chances that a user who arrives on the blog will return not buying into Wholefoods' positioning as the champion of the health and eco-conscious consumer is close to none. With posts that range from educating customers on eco-friendly foods to sharing healthy recipes to dedicated posts about promotions and sales, the Whole Foods blog is the perfect blend of branding, customer education and sales promotion.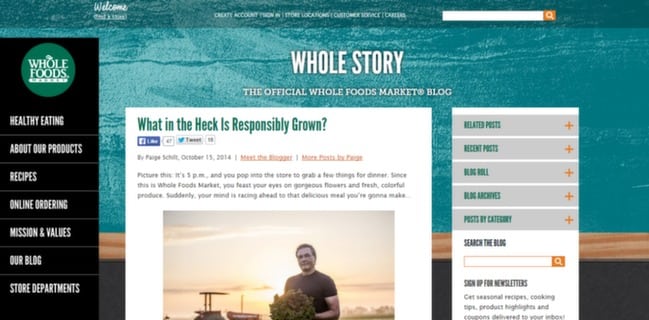 Like the Disney Baby blog that we spoke about earlier, the Whole Foods blog achieves that rare balance of content + product placements without making it seem too in your face. The tone of the blog is largely educational – whether telling users how to cook specific types of food or teaching them about environment related concepts, Whole Foods makes no attempt at befriending the reader. But that takes nothing away from the inherent readability and attractiveness of this brand blog.
Actionable Takeaways
It's OK to Not Be Best Mates: You don't always have to be a friend or an equal to your reader. In fact, positioning your brand as a subject matter expert not only makes users respect your position, it also offers your brand top of mind recall in matters related to your area of expertise.
Work on Blending Product Placements into Content: Your blog is your captive audience that comes willingly to read what you have to say about things that interest them. There's no better chance you'll have to drive home your marketing messages than when your users come to you with an open mind, instead of you chasing them with ads. It is for moments like these that you need to master the art of subtly introducing your products into the conversation without doing a used-car salesman act.
Regular Posts Keep Readers Engaged: While no one is going to sue you for not posting to your blog every single day; it helps to be regular. Whole Foods puts up at least one, if not more posts every day. Regular readers know to expect fresh content from them every day, returning to get their daily fix of healthy living from Whole Foods. This regular engagement with the brand ensures extremely high recall value, leading to extremely high purchase probabilities. Besides, fresh content on your blog on a regular basis goes a long way towards improving your brand's SEO as well.
Instagram has the privilege that very few brands in the world have attained- they have become a common noun. Just like you Google your doubts or you Hoover your floors, you Instagram the images of your daily life.
With such a deep connection that it has developed with its users, Instagram does not disappoint with its blog. Instagram takes its intimate relationship with its users to the next level by turning its blog into a 'best of Instagram' type platform. It showcases its users' content on its blog – thus getting some beautiful, free content and turning the featured users into Instagram celebrities with each post.
Instead of focusing on text, Instagram plays to its strengths and uses largely images to get its point across on its blog. It offers completely new and unique content pulled from Instagram with every post, turning the blog into one giant content discovery tool.
Actionable Takeaways
K-I-S-S: Instagram's no-fuss Tumblr blog lives up to its own brand identity – easy to use, clean and clutter free design sensibility, conveying a world of meaning in just a few images. Take a leaf from Instagram's book and keep your posts short and sweet to break the monotony of lengthy verbose posts.
Highlight Your Product's Features & Benefits: Instead of talking about the features and benefits of its product, Instagram demonstrates its features by using hashtags on each post, showcasing its image filters and personal tagging options.
Never Lose Sight of Your Goal: The ultimate goal of any brand blog is conversions. Instagram keeps its eyes firmly on the prize with a persistent horizontal bar at the top of the page that tells the user to download Instagram on the device of their choice. Make sure your blog does not forget to drive home your key calls to action (CTA) in whichever way is best suitable.
Closing Thoughts
Blogs as we have seen here come in all shapes and sizes. There is no single right or wrong way to do it. So the next time you work on creating content, pick the best from each of the blogs listed here and proceed to create your own unique blend of content, story-telling and brand building.