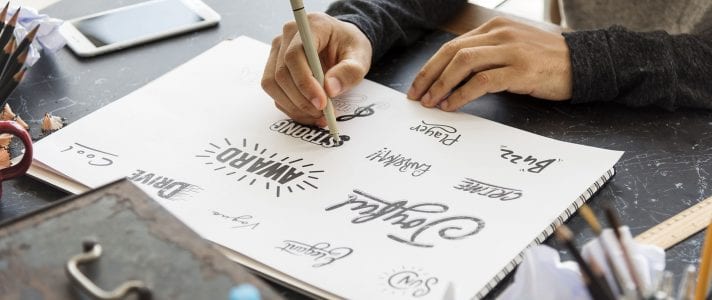 53 Fonts That Made It to the Creative List of Logo Designers
Are you one of those logo designers looking for fonts to use in your next project? If you are, you may have struggled at one time to find the best font that goes with your logo design. The whole process can be challenging. Hopefully, this list of 53 fonts for logo design can help you during the custom logo design process.
1.  Greycliff
Connary Fagen Type Design created Greycliff to have a hearty, warm, and rugged feel. Taking its cues from the 40s, this font has softer edges and more energy. It also comes in different obliques and weights.
2.  Gibsons
With four weights complete with Italics, Rod McDonald's humanist font works perfectly with food, entertainment, and hospitality businesses including restaurants, bars, and labels for alcoholic beverages.
3.  Estylle Madison Calligraphy
This font from Creatype Studio mimics the natural movement of a person's handwriting. Given its elegant and stylish scripts, this would work perfectly for wedding invitations and blogs, beauty products, and fashion boutiques.
4.  Oxigen
This logo typeface is ideal for headers, magazine layouts, name cards, and yes, logos. This font would be perfect for a business where style is the main focus, such as luxury and fashion brand ecommerce website logos.
5.  Duffish
The bold script design associated with Duffish makes it stand out, and it is also a great font for website headers, letterheads, and logo designs.
6.  Liber
This font combines the qualities of Futura and Avenir to make something that perfectly blends in with the needs of the 21st century. This font has a modern, but vintage, design and comes in different styles that can complement small business websites with a vintage feel.
7.  Ruas
Speaking of vintage, Ruas is another font that will look great on bottle labels and fashionable items. The font follows a grunge style, and it is available in six unique designs.
8.  Mushroom
Are you in the process of designing a logo for a children's book or a website for kids? To complement the playful vibe you are targeting, Mushroom font might be the perfect font.
9.  Airy
Creating the logo for a creative startup can be nerve-wracking, and you want an equally impressive font to complement the business. For those clients, you should consider Airy. This font screams of innovation. Plus, it is wavy and colourful.
10. Pantra
Minimalist would be the best way to describe this font, which comes with a casual edge. It comes in different styles, from light to bold to medium.
11. Ornacle
If you are up for a font with a futuristic feel for your logo design and online marketing, Ornacle might be the perfect fit. This would look right at home with ancient art inscriptions and can fit right into website headers, logos, and posters.
12. Thousand Lake
As the name implies, Thousand Lake is a handmade serif font reminiscent of lakes. This font would fit wedding invitations and logos related to crafting and creative fields. It also comes in a normal and monospace design.
13. Fibre
Fibre is a vintage font which has a textured and rough retro-modern design. This is another choice for product labels and logos for companies in the creative industries.
14. Hemingwar
Just by looking at the name of this font, it's easy to see that it is related to Ernest Hemingway. Hemingwar is inspired by the man's adventurous lifestyle and includes both creative and modern elements which look at home in titles, logos, and headers.
15. Wavehaus Sans Typeface
This geometric sans serif comes with different weights to suit different logo designs. This typeface looks simple and funky at the same time. If that is the feel you are trying to achieve, give this font a go.
16. Boomerang
Boomerang is stylish, modern, and fashionable. This handcrafted design would shine as part of the design for a fashion brand, company logos for startups related to style and fashion, and for brands selling alcohol.
17. Raisa
Raisa is a script with a natural design with an impressive flow that makes it stand out. This works best for greeting cards, wedding invites, shirt designs, and logos for creative establishments.
18. Casses
Here's another logo for fashion and clothing brands. This handcrafted font is sure to attract attention, especially when you have a great eye for combining different elements.
19. Arquitecta
This geometric font inspired by lettering from the early 20th century comes with upright and Italics designs. Since this font supports European accents, if your logo needs any of those, try using this typeface.
20. Noyh
Typesketchbook Foundry created Noyh by combining different fonts between the 1990s to the 2000s. This geometric font is hard to miss, making it perfect for logos, titles, and headlines.
21. Anaheim Gothic Font
Taking its inspiration from vintage logos, Anaheim could be the right choice for a business logo in a language other than English. This font has multilingual support, and it is undoubtedly sophisticated.
22. Averta Standard
Kostas Bartsokas created this font using American gothic as one of the sources of inspiration. Averta has a modern feel and features characters with open apertures and geometric rounding.
23. Acre Family
Jonathan Ball, the Acre family designer, named the font after Tex Acre, his great grandfather. This font follows the aesthetics during the mid-century in the Midwest, which might be useful if you are making a business logo design for an industry related to this era.
24. Aable
Elegance is the first thing you will notice from this modern serif font. Luxury and fashion brands would be the best use for this font.
25. Lineat III
This creative font comes with futuristic and contemporary elements. A modern business, ecommerce fashion brand, or startup would do well with this line-based and creative font.
26. Break Stones Pro
If you are looking for a brush script, FeyTypeDesign has Break Stones Pro for you. The typeface contains 1200 glyphs supporting different languages. There is a demo version for this font, but you need to pay a fee to access the full version.
27. Montana Font
Montana is a handwritten script with brush strokes which would be suitable for upscale and luxurious products. This font has an embossed look, and it comes in six styles.
28. Pontiac
This sans serif Opentype font looks casual, but friendly. There are eight styles, including light, bold, black, and regular.
29. Grotesque Supermundane Font
This font has a character that lives up to its name. This fits movie posters and other horror movie-related designs. You can also use this font to add more personality to your logo design project.
30. Nixmat
Do you need a font that people can associate with your brand? Nixmat could be that font given its distinctive character and memorable letters. Aside from logos, you can also use this font on your business cards.
31. Kontora
Peter Bushuev created this geometric font in three weights. This may be a modern font, but it has a touch of retro, which could be useful for your design projects.
32. URW Geometric Regular
This font uses the German geometric typeface popular in the 20s, but with a modern twist. This font comes in different weights to serve different forms and functions.
33. The Huntsman
This vintage script font has a stylish design which comes in four styles. The typeface looks perfect for logos related to nature and the outdoor environment. There are also different styles, such as alternates and swashes.
34. Vintage Modern Fonts
Vintage fonts are becoming a popular choice for websites these days. If you are in search of a trendy logo, you may want to consider adding a vintage feel to it. This font comes in three styles which would fit different design requirements.
35. Wild Zova
This brush font draws inspiration from vampires and zombies, giving the font an uninhibited feel. The unique appeal of the letters fits in with different businesses and brands, especially those aiming for a logo conveying a wild feeling.
36. Monopoly Font
Are you looking for a clean and simple sans font? Why not use the same letters as the MONOPOLY game? With different styles, you might achieve the minimalist feel you are aiming for with this font.
37. Magehand
This modern logotype font from Typia Nesia looks both magical and modern. Perfect for designs needing something enchanting, Magehand comes with a lot of surprises, and it also supports multiple languages.
38. Rhino
This bold typeface from VPcreativeshop looks odd, and it truly stands out from the rest. The best application of this font would definitely be for products and brands related to children. It also comes in four different styles.
39. Atlantis Heart Font
Atlantis Heart is a brush font reminiscent of the letters from the opening scenes in a Disney movie with slight differences. This font would work best for posters, logo designs, and similar uses.
40. Nexa
Best for headlines and blocks of text, Nexa is a simple geometric font which comes with 16 variations. This font looks legible when used for websites and print, making it a versatile choice for logo designers.
41. Richardson
If you need a lot of ligatures, this signature brush font could serve your needs. This will look perfect on a jewelry store or a high-end brand's logo. If you want a fancy business card, this could work too.
42. Metropolia
This futuristic font is a great match for tech companies in the creative field. If you are crafting a company logo design for a web design agency or a startup in the field of technology, this could be the final touch you need to make an impressive proposal.
43. Raph Lanok Typeface
Coming from Alit Design, this font is most suitable for luxury products and brands as well as fashionable companies. With three styles, you can play around with this font to find the one that would fit your needs.
44. Olio
Olio comes in two styles – in-line and bold. Albeit chunky, this sans serif font oozes warmth, making it perfect for creating logos that are easy to read.
45. Barcelony
With its elegance and style, Barcelony is the signature font you will need for apparel or fashion brands. It comes with different versions, glyphs, and ligatures so you will have a lot of freedom to use it for different purposes.
46. Acids Font
Acids is a hand-drawn font for a logo design related to children's goods and products. It's easy to see that the font will be perfect not just for the logo designs and tags but also for badges and signage.
47. Foundry
Foundry is a font which comes in different designs from normal to monospace. With so much variety, a lot of companies from fashion businesses to coffee shops would thrive by using this font in their business logo design and product packaging.
48. Advio Logo Font
Advio looks so unique, and you probably haven't seen a design similar to it. This design would be the perfect fit for a tech or startup looking for new logo designs. With its fun and unconventional letters, Advio tends to attract a lot of attention.
49. Maroon
Another vintage font which comes with different styles, Maroon is a custom serif with a bold appeal which would look great on a beverage label or on a tag for a fashionable item.
50. Azteker
This sans serif font draws its creative inspiration from Aztek symbols, which makes it ideal for creative brands. This font comes with a custom framework and line art elements, which make it easier to work with when creating logo designs.
51.  Odudo
If you are looking for a geometric sans serif which is rounded, then Odudo could be it. This works well for logo designs, and chances are, you have seen logos using this font before.
52. Audacity
Audacity by Sarid Exra is actually a font duo containing freehand lettering and rough sans. Both fonts have a vintage theme with symbols, multilingual characters, and swashes. Logo designers for brands and businesses which aim for the vintage feel can use this font for their projects.
53.  Visby
Inspired by the Arctic, Visby is a geometric sans font created by Greycliff. The font is characterised by rounded bottoms, sharp corners, and hard lines which make it not just legible, but also attention-grabbing.
For more information on our web design packages, contact our professional team of Sydney web designers.