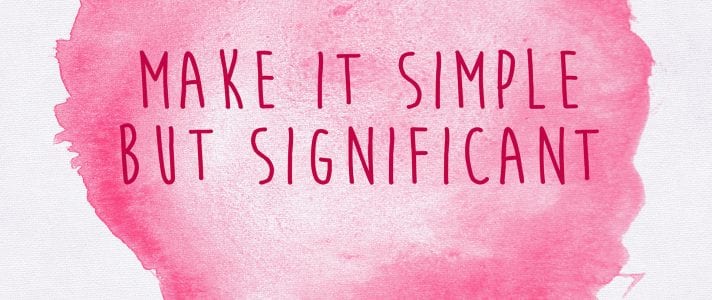 33 Free Fonts for the Best Website Design
Choosing a suitable, but unique, font could give your website the personality it needs without having to spend a fortune. After all, the best website design shouldn't just look pleasing to the eye; it should also have character as well. The right font for you depends on your business and your branding – ecommerce websites selling luxury high-end products will have different branding and requirements to small business websites.
With thousands of fonts available online, it can be tedious to browse through everything. So, here are 33 of the best free fonts:
1. Ostrich Sans
Characterised by exceptionally long necks, it's not surprising how this font got its name. Ostrich Sans is a modern sans serif font which looks elegant and grand, making it perfect for titles and subtitles. Created by Tyler Finck and available through The League of Moveable Type, this free font also comes in eight weights and styles including normal, black, ultra-light, dashed, rounded heavy, inline with italics and bold.
2. Fjord
Designed by Viktoriya Grabowska, Fjord takes its inspiration from contemporary and Renaissance typeface designs. This free serif typeface was intended for printed books, making it useful for displaying long strings of text on your website. Ascenders and descenders are longer, making the font look more elegant. The prominent serif and sturdy construction also make Fjord distinctive. If you have a keen interest in corporate design or if you craft headlines, this font can be useful for you.
3. Palanquin
A favourite for web developers working on custom web design, Palanquin is a sans serif font designed by Pria Ravichandran. This Unicode-compliant font has seven weights and if you are looking for a heavier display, look for Palanquin Dark. The distinctive feature of this font is found in how it meets typographic conventions while maintaining visual aesthetics.
4. Josefin Slab
Santiago Orozco's Josefin Slab font follows the geometric typeface reminiscent of the 1930s while borrowing Scandinavian elements. This slab serif which also comes with a sans serif counterpart appears similar to typewritten letters. Josefin Slab will stand out when used for display purposes.
5. Fajalla One
Fjalla One has been featured on numerous websites because of its stunning design and impressive versatility. Designed by Sorkin Type, Fajalla One can be adjusted to different screen restrictions making it perfect for modern websites.
6. Signika
Anna Giedryś designed Signika for signage, wayfinding, and other types of media where the main goal is to provide clarity. This sans serif font has a gentle appearance created for greater readability whether the reader is near or far. This font also supports Czech, Polish, and other Western European languages.
7. M+ 1p
M+ 1p, designed by Coji Morishita, has four subfamilies, all of which exude relaxed and sophisticated styles. This proportional font comes with different weights resulting in crisp shapes perfect for different web design purposes.
8. Abril Fatface
This font works well for attention-grabbing headlines. You can pair this with Droid Sans, Open Sans, and Lato. The font also comes with extended characters which supports more than 50 languages.
9. Bevan
Inspired by Heinrich Jost's slab serif, which was released in the '30s, Vernon Adam's revival of the traditional font led to an ultra-bold font with superb adaptability to modern browsers. Bevan is a font designed to look strong without being too harsh on-screen. Text letters went through a huge revamp to fit the requirements of modern browsers and stay relevant to web designers.
10. Lato
Lato, which translates to summer in Polish, was developed by Łukasz Dziedzic based on the sans serif typeface. As the name implies, this text exudes the warmth of summer, especially when used in larger sizes. Since the font doesn't look that distinctive in smaller sizes, web designers will find Lato best for headlines and titles.
11. Montserrat
Julieta Ulanovsky captures the beauty of typography of the signage from Montserrat. This font comes in different styles and weights, including italics and the designer plans on developing even more variants of this urban font.
12. Do Hyeon
Does your website need a Latin or Korean font? Do Hyeon from the Woowahan Brothers was inspired by hand-cut vinyl letters. This font makes letters appear visually connected.
13. Fira Sans
Erik Spiekermann created Fira sans, drawing inspiration from the Carrois Type Design. The Fira Sans looks legible when integrated with Mozilla Firefox OS. It also displays well in a wide range of devices with diverse rendering and screen quality.
14. Gravitas One
Gravitas One is a web font which looks best on tabs, titles, and headers. Riccardo De Franceschi drew inspiration from the font used for advertising during England's industrial revolution.
15. GT Walsheim
Initially released through Grillit Type in 2010, you can use this font for your design blog or at least the free trial version of it. Noël Leu's geometric sans serif typeface is the perfect fit for creative websites, although you have to pay if you want access to the full font family.
16. Vollkorn
Considered to be the first font designed by Friedrich Althausen, this chunky serif clearly boasts loads of vitality and confidence. If the website design you have in mind involves making impactful statements in large fonts, Vollkorn might be the right typeface design to fit the overall picture. With its well-designed letters, this typeface, which translates to wholemeal in German, is effective in pulling in the reader when used for titles and headlines.
17. Merriweather
When readability is your main concern, Merriweather could be your go-to font. This text face from Sorkin Type is ideal for long texts. This font is also evolving, and you can stay up to date with the latest changes through Eben Sorkin's blog.
18. PT Sans
Developed by Olga Umpeleva, Vladimir Yefimov, and Alexandra Korolkova, PT Sans is based on the Russian sans serif which emerged during the late 20th century. Marked by its humanistic designs, there are eight styles in this family, four of which are basic styles, two smaller sized styles for captions and the other two narrow styles designed for typesetting.
19. Jura
Jura is the type of font you can use for anything! Based on the Kayah Li glyphs, Jura stands out in its own right and could work for almost any kind of project. The font used to be available only for the Roman alphabet, but it has since expanded to Cyrillic and Greek. Jura also comes in four weights for different purposes, including medium, book, light, and semibold.
20. Crimson Text
When your web design needs something solid and well-proportioned but eye-catching, Crimson Text could be the best choice. Sebastian Kosch used the old-style typeface as an inspiration for this design. With its beautiful uppercase forms and ordinals, this is a reliable pick for different web design applications.
21. League Gothic
Created by Tyler Finck, Caroline Hadilaksono, and Micah Rich, this font gives Alternate Gothic #1, which was originally created by Morris Fuller Benton, a new look. Updated to fit the digital market, League Gothic comes in italics, condensed, and other styles.
22. Forum
If you have to use all caps for your headlines, this font inspired by the Roman serif may be what you need to create an impact. Designed by Denis Masharov, this free font looks stylish when used for sentence-case texts displayed using a larger size. As the font name implies, you can expect to get the feel of semicircular arches, vertical columns, and classical architecture when using this font.
23. EB Garamond
EB Garamond is a typeface which is based on the Garamond serif face popular during the 16th century. More than just a copy of the original icon, Georg Duffner's take on Garamond seeks to create a font that fits perfectly for web design. With its unique design, EB Garamond puts a new twist on a very well-loved typeface.
24. Amaranth
Gesine Todt designed this italic face to be friendly while remaining distinctive through contrasts and curves. The font looks great with almost any text type, and you can play around with Amaranth to see where it fits best. Plus, the font comes in different styles.
25. Ledger
When the web design you have in mind needs to stand out even when viewed on a low-resolution screen, Ledger could be the right font for the task at hand. This defined serif's main selling points include the large x-height and the heavy stroke contrasts, which both work in improving its readability. Denis Masharov, the font's designer, created Ledger mainly for editorial use. Given the function it should have, it's not surprising why this font remains readable on a low-resolution screen or on a printed page.
26. Gentium Basic
If the website design calls for a multilingual face, Gentium Basic might be the perfect fit. This serif design by Victor Gaultney was released under the SIL Open Font License. You can also access the Latin character set for Gentium Book Basic and Gentium Basic for free.
27. Ubuntu
Dalton Maag created Ubuntu through the funding provided by Canonical Ltd. The font is based on the sans serif font, but it caters to more applications and needs of the online community. Ubuntu has a distinctive personality, whether on mobile or desktop. Modifications and improvements on this font are also encouraged.
28. Playfair Display
When you have tight spots to fill, Playfair Display could be the font for your headline. Characterised by its short descenders and large x-height, this transitional design from Claus Eggers Sørensen is best paired with Georgia. Though, you can also see it paired with fonts like Arvo, Lato, and Oswald on many websites and ecommerce stores.
29. Stalemate
Jim Lyles created Stalemate as an accent font, and you can clearly see this at first glance. This vintage-inspired font can give web design projects the character it needs to connect to its target market. Stalemate could also function as a display font.
30. Karla
Karla is a sans serif typeface font known for being quirky. Jonny Pinhorn created this grotesque font after completing his MA in Type Design. Most of Pinhorn's work involves Indic scripts, and it is not surprising why Karla supports Tamil and Latin Scripts. This font comes in two weights, bold and regular, and it is usually used together with Lato and Montserrat.
31. Arvo
Arvo is a geometric slab serif which has been created by Anton Koovit for different mediums – digital and print. This font is highly versatile, and it comes in different styles, including Roman, Roman bold, bold italic, and italic. Arvo stroke widths are almost uniform, and the contrast is one factor that gives Arvo its personality. On-screen, Arvo is one of the most readable but distinctive fonts which implicitly improves the reader's online experience.
32. Old Standard TT
If you are looking for the best website design for a website with a scientific feel, Old Standard TT might be what you need. Reminiscent of serif styles popular during the early 20th century, this font will look great on websites utilising Cyrillic or Greek letter types. Alexey Kryukov maintained a semblance of the typeface used in old books to create a modern font which fits in with the needs of the current generation.
33. Kreon
When the web page design calls for a dash of personality, Julia Petretta's Kreon might be the element you need to give blogs, news, and magazine websites some character. This serif font is more of a typewriter-style font which looks ideal for headlines. Thanks to its low contrasts, this font has more personality than others, and there will be italic and sans serif styles for Kreon soon.
When it comes to your e-commerce website design, in particular, it's crucial to look into the little things, including fonts as fonts can play a vital role in creating a personality for your brand. While at it, don't forget to look into laws governing the use of fonts and typefaces. After all, the best website design you can churn out should be free from any legal issues.
For more information on our affordable web design, contact our web design Sydney team.