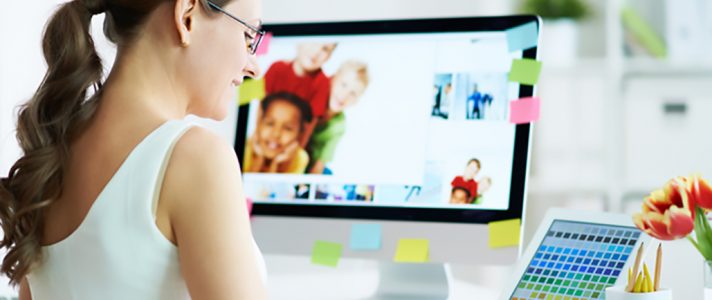 24 Steps to Creating the Most Effective Websites
Website design is a long process, and mistakes are not uncommon. Whether you are the client or the web design agency, you need to know the basics before the project starts.
Here are some of the little things you should be extra careful with to avoid committing big mistakes – not just in web design but also with regards to the general workflow.
1. Know the background of the project
A website design project doesn't necessarily start from scratch. There are instances when the web designer has to pick up a job that someone has already begun.
If some progress has already been made, the website designer needs to take the time required to understand the requirements properly. The designer can change everything, improve what has been started, or simply see the project through to completion.
2. Determine the primary purpose of the website design
What do you expect from the website? What is its purpose? What are your goals?
You should think about what the website should do for you. Do you want a small business website that is focused on generating new leads? Do you want it to be the go-to for expert advice or merely fun stuff? Or, do you want it to maximise ad impressions?
For websites, performance will always beat aesthetics. Web designers have to understand what their clients want to accomplish with the website. On top of that, it's also crucial to see how the goal will be measured.
3. Don't start without a grid
Having a proper grid is one of the basic steps in designing websites. Without a grid, you will have issues with the design later on.
Grids help you to structure different sections in the layout. Grids help you to maintain consistent spacing when creating responsive templates and adjusting the website to varying screen sizes. It can also solve tons of design issues.
4. Prioritise the layout
The foundation of your website design is tied to the functionality, content, and layout. Before designers can do their work, they should come up with the layout and a clear hierarchy first.
Jumping straight to shadows and gradients will not solve your design problems. While at it, keep your client's goals in mind. It never hurts to share the layout with your clients if you want their feedback.
5. Keep the layout simple
Simpler is better when it comes to layouts. Navigating a website with a simple layout is easier. So, cut out unnecessary sections. Only leave elements that a user needs to see to understand what the website is for and why they should continue exploring it. Getting rid of all the clutter can also make your call to actions more tempting to the visitor.
6. Start with the basic wireframe
Sketching the top-level framework will establish the look and feel of the website. The framework refers to the user interface surrounding the content on your website. This will help users navigate through the website and perform actions.
By thinking about the wireframe first, you will have a specific direction and understanding of the website. This will allow you to come up with the necessary components for other sections aside from the home page.
7. Show clients the design as early as possible
Don't invest too much time on your design concept – get your clients involved right away. The client should know about any design proposal dictating the visuals and the overall feel of the website.
If you get the green light for the concept, you can start the production phase. If not, pitch another concept until you find the proposal your client falls in love with.
8. Choose your colour palette
While picking the typeface, you should also think about the colour theme of the user interface. It's better to limit the colours and the tones of the general UI. Be consistent with your colours and customise colours depending on the functionality of an element.
9. Decide on the typography
Your website layout should have only two distinct typefaces, but this rule is not set in stone, and it depends on the nature of the website. If there are large blocks of text, pick a font that makes reading easier. You can be more artistic with the call to actions and the titles. In short, explore different font styles and colours, but make sure that it is consistent across your website design.
10. Pay close attention to each component
With simplicity as the goal, each component of the website will bear a considerable weight. So, you have to pay attention to each element. Always ask this question for each component – can this be considered as the best one on its own?
If your answer is no, you have probably been slacking off while working on it. Haphazardly completing a component can hurt the entire website.
11. Make it interactive
Websites offering an interactive experience are getting more attention. Static components are a thing of the past. Using motion to hold the attention of your visitors can make the design stand out. So, think about these elements while creating a layout.
12. Involve clients throughout the process
Clients will feel more invested in the website when they have been involved throughout the entire process. It's always better to discuss your progress with the client than to just hand in a finished product.
Communicating about the progress with clients while you're working on the website will allow them to voice their concerns and point out issues that you missed. This will also help you to develop a relationship with your clients, so you'll have a better idea about their expectations and demands.
13. Always prototype
How can you test the technology and interactions?
The answer is simple – prototyping. These days you don't need to be a coding guru to have an effective prototype. There are so many web development tools to help you with it.
A prototype will also help your clients understand your methods better and see something concrete from the ideas and concepts you have pitched.
14. Ignoring details can be a fatal mistake
With the stress of designing a project, you might not notice things about the website. The website might need another element to help it achieve its goal.
Little details such as an element's gradient might seem insignificant, but it could be crucial to your website design. Having an eye for these things will help you not to commit big mistakes.
15. Find ways to challenge yourself
When designing a website, don't stick to safe choices. Look at each project as a challenge to innovate and showcase your fresh ideas.
Introducing a new component to a website, changing the grid system, and picking an unusual colour are just some ideas on how to innovate. These things will help you to grow as a website designer.
16. Prepare for the worst outcome
Just because you work with the best talents doesn't mean everything will go smoothly. The people accessing the website might not be able to do so using the optimal conditions.
Remember the layout's functionality will vary among devices. A web designer's job is to solve whichever issues come up because of the constraints. These problems can be technical, conceptual, or related to the content.
What you need to do is to create a website that will function even if the worst happens. Users trying to access the website on a small screen might find it extremely difficult to see the content, making the website look broken.
Ideally, the common scenario should also be the best-case scenario. Your goal during a presentation is to show how the website will perform in a browser using the ideal screen size.
17. Become obsessed with your web design until you find flaws in it
As a web designer, it's reasonable to be proud of what you do. So, use your web design as a wallpaper, screen saver, or even display it in your home. Allow yourself to do this until you realise the flaws with it.
Learning to see your own design with an objective eye helps you to become a better website designer. When you see the mistakes you have committed and the wrong things you did, you can learn from it. Plus, it allows you to create a new masterpiece to obsess with.
18. Learn to let ideas go
Even if you are in love with an idea, you should have the heart to trash it if your client or web design company is not keen on supporting you. Your job as a designer is not just to create your own art, but also to recognise the constant possibility that someone could come up with another idea or reject your idea. The choices as endless, so you have to be flexible with the solution.
19. Treat the web developer like your best friend
Website developers are not just passionate about what they do; they are creative people too. Unfortunately, these experts are usually only consulted after someone else became in charge of the creative side of the project. Since they aren't involved from the beginning, they don't get the chance to say a lot about the creative aspect.
This process should stop.
It's better to have your developer involved from Day 1. Development teams could pitch better ideas and share their thoughts to improve the concept of the project. Plus, it will also help them to execute the project better since they know everything about it.
20. Communicate when something is ambiguous
If you are not sure about something or you find a roadblock, get in touch with the client. When starting a new web design project, it's normal to communicate a lot with the client. This will help you to provide results which are in the best interest of both parties, and it can save you from committing big mistakes.
Keep the communication lines open until you are feeling comfortable with the workflow, and once you have an understanding as to what both parties expect.
21. Explain presentations in a way the client will understand
If it's time for a presentation, explain things as clearly as you can. Treat clients like little kids unless you are sure they speak the same language website designers do. Someone who sees the design you made for the first time might be confused about the purpose that some functions should serve. Therefore, take the time to answer their questions and be patient while giving them a walk-through.
22. Avoid blurry pixels and brush up your design
When you're done, it's time to brush things up – you have to sharpen your work. Find the perfect contrast between the background, the background colours, and the strokes.
Aside from aesthetics, you should also look out for other things that could compromise your work. Font rendering and blurry edges can make your web page design look sloppy. The list of these small mistakes in creating websites is almost limitless. The key here is to look into each website design component and see if every element complements each other.
23. Put the design files in order
It doesn't matter what kind of design tool you love to use, you have to be organised. The number of web designers working on a job or the project's size is all irrelevant – you have to keep the files tidy. Doing this allows you to export sections conveniently, speeding up your design process. At the same time, it improves collaboration with other designers.
24. Follow design progress
Even if you are only the website designer, it wouldn't hurt if you followed a project to development. If you're part of an agency, you are probably aware of the hardships you'll encounter in starting a new project when the previous one is still in development.
Just because you have delivered the style sheet and PSD files doesn't mean you're done. Designers who care about their interaction and web design ideas will keep tabs on the project to see if everything looks as perfect as they had envisioned.
Need some help with your website development? Contact our Melbourne website design team.